ChattState PTA Alumni of the Year
February 13, 2017 | Betty Proctor | College Advancement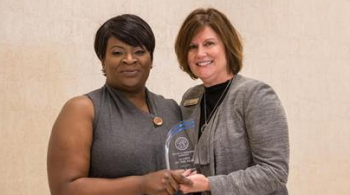 Chattanooga State Community College co-hosted the 7th annual joint UTC/ ChattState Physical Therapy Forum at UTC on Thursday, Jan. 26.  During the event, ChattState presented its PTA Alumni of the Year award to Felicia Jackson.
Felicia is a 2006 graduate of the Physical Therapist Assistant program and inventor of the CPR Life Wrap. Edge Magazine, GPS "Mad, Bad and Dangerous" entrepreneurial summit for women, News 12, and NewsChannel 9's "Made in Our Hometown" have all recognized Felicia for her invention. Felicia is a graduate of LAUNCH Business Entrepreneurship Academy, was selected by the Company Lab (CoLab) as one of its four startups in 2016, and she received the Best General Business Award from "Will This Float?" Most recently she was honored at the Urban League's Entrepreneur Power Luncheon, which celebrates minority and female-owned businesses and she received recognition for running the "Emerging Business of the Year."
Photo above: PTA program director Caroline Rogers (right) presents the PTA Alumni of the Year award to 2006 graduate and inventor of CPR Life Wrap to Felicia Jackson (left).