2016-2017 Season Preview
The Tigers return 8 players from last season and added 3 transfers to round out the sophomore class for this upcoming year.  The large number of returners should bring leadership and playing experience to this year's team.  

The Tigers have one transfer pitcher, Courtney Condon (Alpharetta, GA) who will also be the only sophomore pitcher on staff.  Courtney will bring leadership and a strikeout mentality to the mound for the Tigers.  The coaching staff is excited to bring in a large freshman class of pitchers and look for them to contribute right away.  Kaleigh Wynne (Knoxville, TN), a high school stand out will not only bring her power on the mound but she will provide homerun power to the line-up for the Tigers. Abbey White (Greenfield, IN) will also be a go to arm this season as a freshman.  She has great speed and command of her pitches, and is a workhorse on the mound.  Cede Loftis (Murfreesboro, TN) brings a different element to the pitching staff as a lefty and provides great movement with a mix of speeds. The sky is the limit for the freshman lefty and the coaches look for her to gain both speed and movement in the off-season. Cede is also a utility player and will help the Tigers with her strong bat and see some time at first base.  Briley Garrett (Kingston, TN) will also be able to contribute on the mound but she will see the majority of her time in the outfield, using her speed to provide a spark to both the defense and offense.  

The Tigers look to use a combination of catchers this season to help anchor the pitching staff.  Taylor Cooper (Midland, GA) is a transfer sophomore who will provide leadership and a solid performance behind the dish.  Taylor is looking to make a strong statement in her sophomore season on both sides of the ball with her power and speed.  Freshman Tori Barnes (Chattanooga, TN) is another catcher who will be seeing some time behind the plate.  Tori is a hard worker who provides great energy and work ethic. The coaching staff looks for her to develop as the season goes along to be a great asset to the program.  Tori athleticism and skill set will allow her to see some time in the infield as well as behind the plate. Madison Kurtz (Clarksville, TN) will also be catching when she is not playing middle infield for the Tigers.  This is a new transition for Kurtz and the coaching staff feels she could be a great option behind the plate with her strong arm and knowledge of the game.

In the infield, the Tigers will find leadership with 5 returning starters Devan Brown (Ringgold, GA), Lillie McCrary (Pisgah, AL), Madison Kurtz (Clarksville, TN), Alaeni Ray (Knoxville, TN), and Jennah McElheney (Winterville, GA).  Each of these sophomores held a starting role on last year's team and will be even stronger in their sophomore seasons.  Not only can these five players get it done defensively, but offensively they combined last season for 49 of the teams 82 homeruns.  

Newcomers to the infield are Niki Slone (Knoxville, TN), Aimie Davidson (Ringgold, GA), Leslie Sands (Pulaski, TN), Haley Johnson (Chickamauga, GA), and Emmaly Morgan (Cleveland, TN).  Each of these freshman bring a different element and playing style to the defense.  Davidson, Johnson, Sands, and Loftis will add solid depth to the corner positions with great size and power offensively.  Slone and Morgan will add depth to the middle infield and will contribute with their skill set and quick feet.  The freshman class will provide competition for the returners and will have equal opportunity to shine throughout the season.  

There will be many new faces in the outfield this season as the Tigers return only two players from last year.  Colbie Thomas (Dalton, GA) started in all 65 games as a freshman and the coaches are excited to have her leadership and experience in the outfield.  Colbie was an offensive catalyst last season with 14 stolen bases and 82 hits on the year.  She will be joined by Brie Levy who found herself getting some playing time in the outfield towards the end of the season.  Brie often pinch hit and was in a DH role for the Tigers.  She was clutch offensively late in the season especially during the conference tournament.  Joining these two sophomores will be freshman Emily Burns (Murfreesboro, TN), Alyssia Bowen (Tullahoma, TN), Briley Garrett (Kingston, TN), and Megan Buffington (Vincenza, Italy).  Each of these newcomers will have the opportunity to play right away.  The outfielders will provide a combination of speed and power and will contribute to the line-up in various ways.  

Transfer sophomore Jenna Thomas (Commerce, GA) and freshman McKenna Morgan (Sale Creek, TN) will both be used as utility players throughout the year.  Thomas is a power hitter who will most likely find herself in a DH role or playing a corner this season.  Morgan has a great bat and can play both infield and outfield and will be used wherever she is needed.  

"We are looking forward to a great season and I couldn't be more excited for all of our players.  I have no doubt that we will continue to put up the offensive numbers we have in the past with a good mix of speed and power in the line-up.  The biggest change for us this season will be our pitching staff.  We have added some exceptional pitchers that we hope will take us a long way.  This staff is the best I have had in 8 years of coaching and I am excited to see them grow and develop throughout the season.  We have also added three new coaches to our staff this year.  Jackie Baird (Chattanooga, TN) comes to us from Tennessee Tech and brings a wealth of knowledge to our team both defensively and offensively.  Jackie is excited to get her feet wet and grow in the coaching profession as she completes her master's degree.  Brandon and Jamie Carr (Knoxville, TN) have come on board as our pitching coaches and will make an immediate impact with this year's staff.  I cannot thank them enough for their willingness to join us and I know they will be key to reaching our highest potential.  I look forward to seeing all of our fans this season as they join us for this year's journey.  I am grateful for the opportunity to coach at Chattanooga State and I look forward to another special season." – Head Softball Coach, Blythe Golden.
2015 - 2016 Tigers Softball Team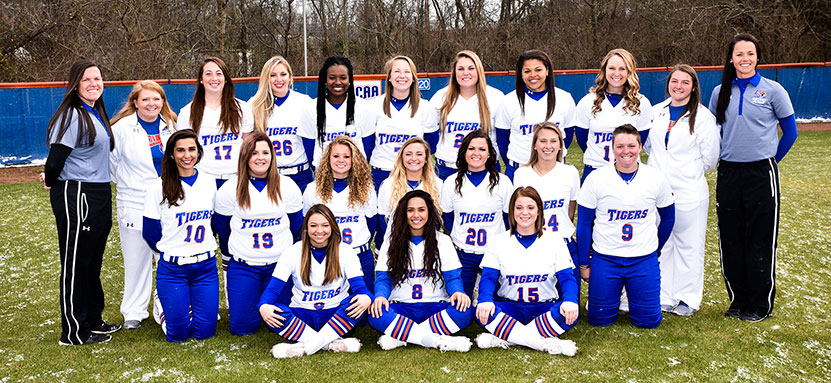 The Tigers are coming off another great season as the TCCAA Region 7 runner-ups.  Despite having a tough first game in tournament play, the Tigers were able to fight through the loser's bracket and force an if-necessary game on championship day. Labrisha Washington put the Tigers on her back and pitched 31 innings with 18 of those innings coming on championship day.  Washington had a ton of help from an offense that was firing on all cylinders despite losing several starters due to injury.  Chattanooga State continued to prove they are an offensive powerhouse again in 2016.  At the end of region tournament play they lead Region 7 with their offensive numbers and finished top 5 nationally in homeruns (82) and at bats (1873).  The Tigers also finished top 10 nationally after tournament play in runs scored (520) and RBI's (474). In addition to their top 10 finishes they also managed to finish top 20 in doubles (120), batting average (.381), and slugging percentage (.588).  The three sophomores lead the way for the Tigers last season and each were named to the TCCAA Region 7 First Team – Shannon Plese, Jordan Roberts, and Labrisha Washigton.  Seven freshman had break out seasons for the Tigers and contributed heavily to the offensive success.  Lillie McCrary (Pisgah, AL) finished the year with an impressive 21 homeruns and Jennah McElheney (Winterville, GA) had 21 doubles, 53 RBI's and batted .413 on the season.  Devan Brown (Ringgold, GA) was an anchor at third base and made her defensive presence known throughout the year with 159 assists and a fielding percentage of .957.  Colbie Thomas (Dalton, GA) and Kayla Logoleo (Nashville, TN) were the offensive catalysts all year at the top of the order and combined for 154 hits, 32 stolen bases, and 100 runs collectively.  Other noteworthy freshman were Alaeni Ray (Knoxville, TN), Madison Kurtz (Clarksville, TN), and Brie Levy (Chattanooga, TN).  Each of these players stepped up to the plate on offense and defense in multiple positions.  Ray and Kurtz both finished the season batting over .350.  Logoleo, Brown, and McCrary were awarded second team all TCCAA and sophomore Shannon Plese was awarded NJCAA 2nd team All-American.  Plese leaves Chattanooga State as a two time NJCAA All-American and has received a scholarship to play for the University of South Carolina next season.  Catcher Jordan Roberts has signed to play at Cumberland University and sophomore pitcher Morgan Boggess singed to pitch at Tennessee Wesleyan College. The Tigers also had 9 student athletes awarded TCCAA Academic Scholars proving that they are working just as hard in the classroom as they are on the softball field. "This season was special for our team in many ways.  Our team had to overcome a lot of adversity this past season with unexpected injuries but everyone came together to get the job done.  Each player grew throughout the year and we were successful because of their selflessness and dedication to the program.  I am excited for the future of our program and thankful for our sophomore's contributions this season and wish them nothing but the best" – Head Softball Coach, Blythe Golden.
2013-14 Season Recap
The tigers are coming off a fantastic 2013-14 season placing 3rd at the NJCAA National Tournament and winning the Region VII Championship.  Chattanooga State compiled an impressive number of wins with 55 and only suffered 8 losses on the year.  At the Region VII Championship multiple tigers received recognition for their accomplishments throughout the year.    Chattanooga State placed 5 players on the Region VII first team, 5 players on second team, and also had the Region VII Pitcher of the Year and Coach of the Year recipients.  During the region tournament the tigers went 3-0 outscoring their opponents 24-0.  At the conclusion of this tournament 5 players received All-Tournament team awards with one player receiving tournament MVP.  The following week the tigers traveled to St. George, UT to compete in the NJCAA National Tournament and represented Region VII with a top 3 finish.  Three players received All-Tournament team awards and another player received the Defensive MVP.  To top off the year, Chattanooga State had 4 NJCAA All-Americans, 2 NFCA All-Americans, 5 NFCA All-South Region team selections, and 12 TCCAA Academic Scholars. Four sophomores from the 2013-14 team moved on to play at the next level – Khadija  Neely (Troy University), Baylee Williams (Lipscomb University), Shelby Willard (Belmont University), and Emily Dagnan (Lee University).  "I could not be more proud of the way our team competed this past year.  The pitching and offense we consistently displayed throughout the year was some of the best I have ever seen or be a part of.   We work tirelessly to challenge our players, enhance their skills, and help them reach their goals of playing at the next level.  This was a very special group and they will go down as one of the best in the history of Chattanooga State Softball" – Head Softball Coach, Blythe Golden.  
2014-15 Season Preview
The tigers return 10 sophomores from the previous season and added 2 transfer sophomores to round out the class.  They have also added 6 new freshmen to join the 2014-15 team.  The large number of returners should bring much needed leadership and experience to this year's team. 
On the mound the tigers return two sophomore pitchers, Hanna Manley and Sharlene Godoy from last year's rotation.  They are expected to get plenty of time on the mound and help anchor the tigers in the circle.  Two freshman pitchers have joined them, McKenzi Ferguson and Ericka Webster, and they are also expected to get pitching time right away and will be big contributors to the staff this season. 
In the infield, the tigers will find leadership in the middle infield with sophomores Katy Richardson, Dana Horgan, and UTC transfer Kaitlyn Walker. On the corners sophomores Lindsey Stickrod and Syndey Sloan will get some help from freshmen Courtney Styles and Chandlar Turner who also bring great defensive skills and powerful bats to the line-up.  Styles can and will also help add some depth to the middle infield if needed.
Behind the plate, the tigers have a returning sophomore Cassidy Howren and transfer from Gulf Coast State College, Jordan Roberts.  Both of these players will see time behind the plate this season and will manage the pitching staff with their experience and maturity. 
In the outfield, the tigers have a combination of new and old faces.  The outfield will be anchored by sophomore Courtney Crawford who started every game there for the tigers last season.  On either side of Crawford are two sophomores Izzy McCurry and Sydney Spurgeon, and newcomers Shannon Plese and MacKayla Rembert.  These players are all battling for starting roles in their respective positions.  The outfield has a lot of speed, depth, and players with game changing abilities at the plate this year. 
"We have had a great start to our fall season and I look forward to watching this team compete at a very high level this spring.  We have a large sophomore class but have added some strong freshman to the mix who will give us the right balance of speed and offensive production that we were looking for.  It will be very hard to top the offensive numbers we had last year, but this team looks to be on the right track for another great year.  Our pitching staff has added the freshman depth that we needed to carry us through the season and we hope to make a strong case for ourselves as we compete throughout the spring" -  Head Coach, Blythe Golden.