Writers@Work 2019 Welcomes Tom Franklin and Beth Ann Fennelly
March 19, 2019 | | Internal Press Release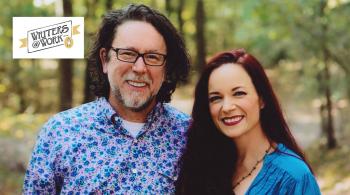 Dates:  April 8 – April 11, 2019
Sponsors: Chattanooga State Community College, Tennessee Arts Commission, South Arts and the National Endowment for the Arts
Partners: EPB, Hunter Museum of Art, Nick Hughes Design, Star Line Books, Southern Lit Alliance and Turn the Page Literacy Initiative
Authors: om Franklin and Beth Ann Fennelly
Selected Work The Tilted World
Tom Franklin: Tom Franklin was born in Dickinson, Alabama, a town of about 400 people. As a non-hunter in a hunting family, Franklin spent his childhood writing, drawing, and reading. After moving to Mobile to attend college, Franklin recalls receiving such low marks that his father decided to stop paying his college tuition. To pay for his own schooling, Franklin worked a variety of night jobs including a stint cleaning up hazardous waste. It was during this time that he eventually discovered creative writing classes.  
Upon graduating from the University of South Alabama, Franklin went on to earn his Master of Fine Arts from The University of Arkansas, where he met his wife, poet and author Beth Ann Fennelly. He is the recipient of a variety of literary accolades including the Edgar Award, the Golden Dagger Award for Best Novel (UK), the LA Times Book Prize for Best Mystery or Thriller, as well as a Guggenheim Fellowship in 2001.  Franklin's 2011 New York Times bestselling novel, Crooked Letter, Crooked Letter, has received critical acclaim, with the Seattle Times describing the novel as "a powerful literary thriller" and the Los Angeles Times stating that the novel is "[a] wondrous reading pleasure." Franklin is also the author of Smonk (2006) and Hell at the Breach (2003), as well as a collection of short stories entitled Poachers (1999). He currently teaches in the University of Mississippi's MFA program.  
Franklin co-authored The Tilted World with his wife, Beth Ann Fennelly, in 2013. Set in 1927, the novel follows federal revenuer agent Ted Ingersol as he and his partner Ham Johnson attempt to locate two missing agents in the town of Hobnob, Mississippi. After finding an abandoned baby at the scene of a shootout, Ingersol places the child with a woman named Dixie Clay, not knowing that she will eventually help him to unravel the secrets of sabotage and murder that inhabit the town. The Seattle Times describes the novel as "a swift, soulful mix of love story and crime saga…", declaring it "literary crime fiction of the highest order."  
Beth Ann Fennelly: Beth Ann Fennelly was born in New Jersey, but grew up in Lake Forest, Illinois, just north of Chicago. From a young age, Fennelly wanted to become an actor, but after a lackluster performance while in college at Notre Dame, she enrolled in a poetry workshop. This had a profound influence on her, and in reference to that workshop, Fennelly has stated, "I remember feeling like all my life I'd wanted to swim, but I hadn't known that until I was thrown into the water."
After graduating from the University of Notre Dame, Fennelly spent time teaching English in a coal-mining town along the Czech/Polish border. She later earned her MFA from the University of Arkansas where she was a Lily Peter Fellow. She then went on to teach at the University of Wisconsin, as well as Knox College, before moving to the University of Mississippi, where she is currently a professor and the Director of the MFA Program. Fennelly has received many awards and honors for her writing, including grants from the National Endowment for the Arts, United States Artists, and the Illinois and Mississippi Arts Councils. She has also received a Pushcart Prize, the Wood Award from The Carolina Quarterly, and won The Black Warrior Review Contest. Perhaps her highest honor to date came in 2016 when she was named the Poet Laureate of Mississippi, a position she still holds.
Fennelly's work includes three collections of poetry: Open House (2002), Tender Hooks (2004), and Unmentionables (2008). Fennelly also works in prose, authoring Great with Child: Letters to a Young Mother (2007) and co-authoring The Tilted World (2013) with her husband and fellow-writer, Tom Franklin. The Tilted World was released to much critical acclaim and was named the Southern Booksellers Association Okra Pick, the LibraryReads pick, and Uncut Magazine's Best Books of 2013. Fennelly's latest book, Heating and Cooling: 52 Micro-Memoirs (2017), collects a variety of flash pieces, many of which have also appeared in well-respected national publications. Fennelly is currently writing a novel.