Writers@Work 2018 Opening Event: Paint the Town Read
January 9, 2018 | Betty Proctor | Internal Press Release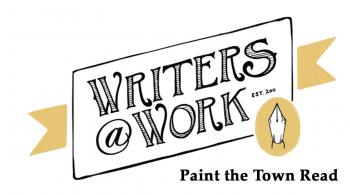 The Writers@Work team from the Chattanooga State Humanities Department invites you to the opening event of the 2018 Writers@Work series. "The Half-Mammals of Dixie – Paint the Town Read" is the first in a series of public events organized by Writers@Work in support of the April 2018 week-long residency of George Singleton, author of The Half-Mammals of Dixie.
Chattanooga State Professor of Art and artist Joe Helseth will lead participants in a discussion of themes in The Half-Mammals of Dixie and guide them in creating their own artistic interpretations of these themes through a variety of mediums. Reservations are required for participants who may choose to attend either session on Tuesday, January 30 at 6:30 p.m. or Thursday, February 1 at 6:30 p.m. in Humanities 305 on Chattanooga State's Amnicola campus. Each night is limited to 20 participants. For reservations, contact Erica Lux at erica.lux@chattanoogastate.edu.
The 2018 Writers@Work event is sponsored by the Tennessee Arts Commission, Chattanooga State Community College, and South Arts and the National Endowment for the Arts. Event partners include the Hunter Museum of Art, EPB, Starline books, and Southern Lit Alliance.
In 2011, the Chattanooga State Community College Humanities Department founded Writers @ Work (W@W) to enhance literary analysis in its Composition II classes through the reading of a common novel with a focus on Southern culture and people. It quickly transformed into an arts experience that touches the lives of many in the greater Chattanooga area.
W@W chooses Southern authors with works centered on life in this region; the effect is that participants are able to gain a new understanding and appreciation for the culture and arts offered in the South, in their own city, and through the community college that serves it. In a media-driven world that shows a limited view of the South, W@W actively works to showcase and celebrate the diversity and rich culture of the Southern people.
Since its inception, W@W has expanded to provide more opportunities for public interaction with selected authors through dynamic events that are always free to attendees. These take place in various locations across the city such as the Chattanooga Aquarium, Bessie Smith Cultural Center, and the Hunter Museum of American Art, where the community can interact with the authors in settings that highlight the best of Chattanooga.
For more information on this and all Writers@Work events, contact Erica Lux in the Chattanooga State Humanities Department at:  WritersAtWork@ChattanoogaState.edu or (423) 697-3233.