Virtual Part-Time Job Fair is September 16
September 14, 2020 | Betty A. Proctor | Internal Press Release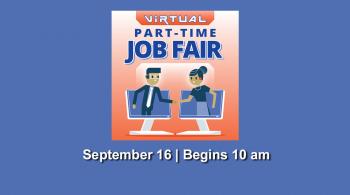 Three industries have been added to Chattanooga State's upcoming Virtual Part-time Job Fair beginning at 10 a.m. on Wednesday, September 16. This fair is for currently registered ChattState students only.
Education, Food Service and Non-Profit industries will participate in the fair that also includes Communications/Media/Broadcast, Healthcare, Tourism, Retail, Finance/Banking, and Packaging. Representatives will be available to chat virtually with students who pre-register using the Chattanooga State JOBlink site available on the Career Services link at chattanoogastate.edu/student-support/careers.
Students should be prepared to provide an electronic copy of their resume and plan to dress in business casual wear. The fair will be available to current students only.
For more information please call Career Services at 423-697-4421 or email careers@chattanoogastate.edu.