Unheard-of//Ensemble Performs March 11 @ 7:30 pm
March 11, 2019 | Betty Proctor | Internal Press Release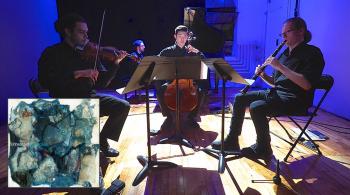 Chattanooga State Community College and the Tennessee Arts Commission (TAC) have joined together to co-sponsor the "Unheard-of//Ensemble" concert on Monday, March 11 at 7:30 p.m. The Ensemble is also giving a Masterclass earlier in the day at 2:00 p.m. Both events will be held in the Humanities Theatre are free and open to the public.
Ford Fourqurean (clarinet), Matheus Souza (violin), Issei Herr (cello), and Daniel Anastasio (piano) form the core of Unheard-of//Ensemble, a contemporary chamber ensemble dedicated to the development and performance of new music by living composers. With over 40 works written for them and guest performances across the United States visiting Manhattan School of Music, Cincinnati College-Conservatory of Music, Georgia State University, University of Tennessee (Knoxville and Chattanooga), along with performances ranging from Carnegie Hall to Spectrum and DIY spaces, Unheard-of has built a reputation for "scintillating and evocative" performances as well as "an enviable cache of new pieces" (Steve Smith, National Sawdust Log).
Ford Fourqurean strives to bring together communities through contemporary music. He is in demand as both a freelancer and as a guest artist and clinician at universities and institutions throughout the United States. He serves as artistic director of Unheard-of//Ensemble along with many other projects connecting contemporary music with wider audiences. Ford regularly performs across New York City at venues ranging from National Sawdust, Carnegie Hall's Weill Recital Hall, Rockwood Music Hall, and Spectrum to DIY spaces and house concerts. During the 2018-19 season, he will perform and present guest artist lectures with Unheard-of//Ensemble as part of their second Midwest and Southern Tours, and also tour the Midwest with Tenth Intervention and Paul Pinto in performances of Peter Maxwell Davies's Eight Songs for a Mad King.
Matheus Souza is a Brazilian violinist, instructor and conductor with an eclectic musical background. His early interest in Brazilian popular music, also known as Choro, gave him tools to go beyond the strict classical training imposed in most violinists. Mr. Souza had the privilege to collaborate with masters of the genre, such as Joel Nascimento, Jaime Vignoli, Luiz Otávio Braga, and Oscar Bolão. In addition to his training in Brazilian music, Mr. Souza participated in music festivals including the Varna International Music Festival, and the Campos do Jordão Winter Festival, where he collaborated with world-renowned artists such as Kurt Masur, Alex Klein, and Antônio Meneses. Mr. Souza received a Master of Music degree from the Yale School of Music, where he collaborated with illustrious figures including Krzysztof Penderecki, Peter Oundjian, Robert Mealy, and Peter Frankl. Upon graduation, Mr. Souza was the first recipient of the Malcolm L. Mitchell and Donald M. Roberts Class of 1957 award for his excellence in teaching and conducting in the Music in Schools program.
Cellist Issei Herr is committed to a diverse array of music both old and new, with a repertoire that ranges from the music of Bach, Beethoven, Brahms, and Babbitt to works by Schubert, Schumann, Schoenberg, and Stravinsky. Past highlights include concerts in Mexico and New York with violinist Rolf Schulte featuring the music of Milton Babbitt, recital programs centered on the works of Robert Schumann, and a recording of the complete cello suites of Johann Sebastian Bach. An advocate for the music of our time, Issei has worked closely with composers such as Mario Davidovsky and Kaija Saariaho, and has premiered works by Eric Nathan, Roberto Sierra, and Kenji Sakai, among others. In 2016, he performed the New York premiere of Dmitri Yanov-Yanovsky's Hearing Solution with Joel Sachs and the New Juilliard Ensemble. He has performed as a member of the Orchestra of the League of Composers, AXIOM, and the New Juilliard Ensemble, working with musicians such as Thomas Adès, Daniel Barenboim, David Fulmer, Louis Karchin, Fred Lerdahl, Vasco Mendonça, Jeffrey Milarsky, Shulamit Ran, Chou Wen-chung, and Du Yun.
Daniel Anastasio is a soloist, chamber musician, and pedagogue who combines an intellectual curiosity with "technical prowess and emotional sensitivity" (Rivard Report). His performance of Beethoven's Piano Concerto no. 3, conducted by Leon Fleisher with the Ithaca College Chamber Orchestra, was 'the highlight to everyone's ears, if the full-house of standing ovation were any indication" (ECMreviews). Anastasio was a concerto competition finalist at Stony Brook University and Juilliard, where he won the Mieczyslaw Munz Scholarship. He received fellowships to Music Academy of the West, Kneisel Hall, Tanglewood Music Center and Yellow Barn Music Festival. Anastasio is a member of Bridge Arts Ensemble, an outreach program that brings classical music to New York area public schools. He is also the co-founder and pianist for Unheard-of, an ensemble dedicated to commissioning composers and premiering their works, as well as Agarita, a piano quartet dedicated to nourishing the arts community in San Antonio, TX through multidisciplinary collaboration, educational community engagement, and free, adventurous programming. With his wife Erika Dohi, Anastasio also co-directs blueprints piano series in Manhattan. He currently serves as full-time faculty at San Antonio College.
For more information about this event, please call (423) 697-2460.