Student Research Symposium Surpasses 200
February 5, 2019 | | Internal Press Release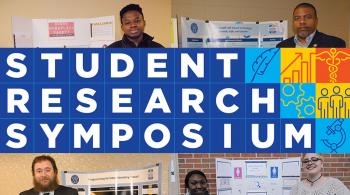 The Student Research Symposium is an interdisciplinary showcase of student research projects regarding challenges in their professions, careers and academic programs. Organizers of the event expected 150 students, however, 250 students actually participated. 
As a capstone assignment projects for many courses, students apply classroom learning to their own professions and interests. The symposium creates a marketplace of ideas where ChattState students network with each other and professionals in their field. Students were available to discuss how their experiences in the classroom gave them skills and confidence to be successful in their future careers and disciplines. 
Judges for the symposium included Dr. Rebecca Ashford, ChattState President; Debbie Adams, VP Student Affairs; Dr. Roy Sofield, interim VP Academic Affairs; Dr. Traci Williams, Executive Director Institutional Effectiveness, Research & Planning, Darrin Hassevoort, Dean Humanities & Fine Arts;   Tracie Clifford, Engineering Technology; and student judge, Jennifer Mesta.
Determining which presentations stood out from the rest proved to be a formidable task for the judges. The following students and their projects were selected for advancement to National Undergraduate Research Conference in Atlanta, GA on April 10-13, 2019.
Madison Rader, Katreia Toran & Emily Thorsen: Which Would You Decide? Pink Or Blue? A Study On The Conformity Of Human Gender Labels
Paul Selman: Nurse Workplace Safety
Ansell Talley: Cloud 365 Trust and Security
Kurt Vandergriff: Programming for Interplanetary Travel
A spring 2019 symposium is being planned for 12:30-1:45 p.m. on April 23. Contact symposium coordinator Eric Niemi, Assistant Professor of English at (423) 697-3170 or eric.niemi@chattanoogastate.edu. More information can be found at bit.ly/ChattSRS, including the schedule of spring workshops.