Spanish Club donates over 2,000 Food Items to Thanksgiving Food Drive for La Paz
November 30, 2017 | Betty Proctor | Internal Press Release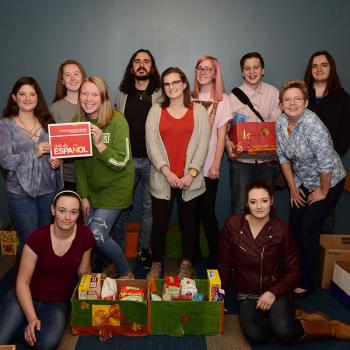 The Spanish Club at Chattanooga State Community College is thankful for their entire campus community. A total of 2,485 items were donated to help the Spanish Club make a contribution to the immigrant community through La Paz. 46 boxes were delivered to the Latino community organization on Friday, November 17. Eighteen more boxes were delivered on Monday, November 27. Through a pre-determined agreement with La Paz, the Spanish Club will donate the remainder of the cans to the Community Market on campus, that was created for ChattState students who do not have enough food.
"The response was truly amazing. We had the best year. So many families will be helped by this," says Dr. Katheryn Thompson, Professor of Spanish at Chattanooga State.
This year the Spanish Club offered prizes to the classes that donated the most. The winner of this year's La Paz Piñata Prize is Josh Tucker and his students with 642 total items donated. The first runner-up was the 2016 winner, Rachael Falu and her students with a donation totaling 384 items.
The Honorable Mention was Houston Graham and the HVAC-R program of TCAT 2 with a total donation of 355 items. "This is the first year that TCAT has participated in this special program and their efforts were phenomenal. We are also grateful that they joined us, "says Dr. Thompson.
Thompson also expresses her sincere gratitude to the Chattanooga State Print Shop, the Chattanooga State Humanities Department Support Staff as well as the other various offices on campus that provided the boxes needed for the donations.
"Many, many families had a Happy Thanksgiving because of what the Chattanooga State campus did for the Spanish Club as well as La Paz Chattanooga," says Thompson.
Written by: Hannah Baker, Chattanooga State