For the Quinns, Higher Education is a Family Affair
June 7, 2018 | Betty Proctor | Internal Press Release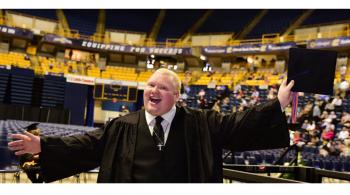 On May 6, when Joseph "J.J." Quinn walked across the stage at Chattanooga State's Commencement ceremony to be awarded his Associate of Applied Science degree, his focus in the moment was avoiding an embarrassing fall. "Honestly, I was just trying not to trip. You see all those videos of people during graduation falling or making a fool of themselves." From the audience, his parents couldn't have known his worry, overwhelmed as they were with excitement; his mother was so proud she could not stop smiling. Later, even after J.J. had time to process his own accomplishment, he says he mostly felt pride for his peers and all they achieved together. 
The road to this triumphant day was long and paved with many challenges. For years, the Quinns braved expensive moves all over the region to make sure J.J. had access to the classes he needed in high school, given his interest in nuclear engineering. Later, he moved in with his grandmother to help during her post-cancer treatment recovery and worked in a local factory. Though J.J. planned on eventually pursuing a career in the Navy, his grandmother encouraged him to consider Chattanooga State.
"I walked [onto the Dayton campus] and the first thing they handed me was a little radiation protection pamphlet. I was hooked." He applied to the college that very day, and in spring 2016 J.J. began his college journey, even though it meant driving nearly two hours each way. Since that time, he has become an integral part of campus life, serving in roles such as ePortfolio lab mentor, vice president of the American Nuclear Society Club, and a judge for local robotics competitions – not to mention a friendly face on many of the college's Web pages.  
J.J. was not the only member of the Quinn family eyeing higher education. His parents, Joey and Heather, had always dreamed of pursuing college studies but focused on raising children and prioritizing their educations first. Joey describes his recent path to Chattanooga State to study criminal justice as "seventeen years in the making;" Heather comes from a family of nurses and doctors, so her current pursuit of a nursing degree continues the tradition.
The challenges of seeking education, however, have not diminished. In addition to long and expensive commutes, Joey and Heather note the difficulties of returning to a school routine after such a long absence. Paying for college has also meant dramatic trade-offs and financial sacrifices, such as selling beloved personal belongings and meeting multiple family members' scheduling needs with only one car. As with many college students, balancing jobs, school, and family responsibilities can be overwhelming, and it doesn't take much to tip a precarious balance into crisis. 
For a few months in 2016, after having money stolen from them, the Quinn family experienced the nightmare of homelessness. J.J. admits how difficult it was to focus on school and considered quitting to get a factory job; it was especially painful watching the impact on his loved ones. Now, though, he is grateful for his perseverance and the perspective that follows such a crisis: "I am a graduate who made it despite my situation. I never quit. My parents never gave up on me. We did not know about eating, but we had faith that we would be okay and kept gas in the car so I could attend class." 
At another point, the Quinns opted to take advantage of one of the college's newer resources: The Tiger Cupboard, which provides food for students and their families in need. It is just one of the support offerings Joey says has made an enormous impact on his family's ability to be in college. "ChattState has a lot of resources, and they want people to come to school. Things like that make and build the community, and it's absolutely amazing. I've seen campus police putting gas in students' cars. If every college campus had what ChattState has, it would make the world a better place one day at a time." 
The payoff for so much continued hard work and perseverance? J.J. is excited to begin a new job at TRU Waste Processing Center, putting his engineering degree and academic experience to immediate use. His sister, Haley, will begin her studies at Chattanooga State in fall 2019 to become an allergist, continuing the family tradition of excellence in spite of obstacles. The Quinns have followed advice that Joey says he would give to other college students working hard to achieve their goals: "Don't give up. Ride the bus, walk, whatever you have to do. Education is worth it."
By Julie Jarnefeldt, Chattanooga State