NSD Signees Announced by Chattanooga State
June 6, 2022 | Betty A. Proctor | Internal Press Release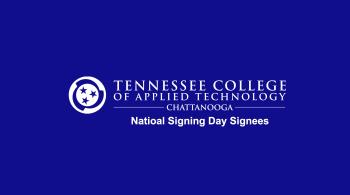 June 6, 2022 (Chattanooga, TN) --- The Tennessee College of Applied Technology (TCAT) at Chattanooga State Community College recently held its annual National Signing Day (NSD) event and welcomed the following high school graduate signees committed to TCAT programs beginning fall 2022.
Aesthetics
Sarah Peace, Hamilton Co. Virtual School
Janna Webster, Ooltewah High School
Zori Phillips, Brainerd High School
Automotive Technology
Damario Douglas, Central High School
Barbering
Abagail Sluder, Sale Creek High School
Cosmetology
Emily James, Sale Creek High School
Shylla Freeman, Ivy Academy
Hannah Bell, Home School
Kaylie Pettit, Ooltewah High School
Maria Albarran, Central High School
Anna Cope, Soddy-Daisy High School
HVAC-R
Bryson Reid and Noah Ferguson, Soddy-Daisy High School
Industrial Electricity
Spencer Haley, Ooltewah High School 
Industrial Maintenance
Colton Teffer and Blake Powell, Rhea County High School
Tremmel Bell, Tyner Academy
Medical Assisting
Kayla Phillips, Karli James, and Abby Johnson, Sale Creek High School
Welding Technology
Benjamin King, Ethan Reed, and Nicholas Ivey, Sale Creek High School
Joana Deissy Jimenez, Central High School
Kentrell Jones, Ooltewah High School
Following commitment ceremonies, students and guests enjoyed campus and classroom tours, met instructors, and spoke with currently enrolled students to learn more about their program of interest.
"It was an honor to welcome these recent high school graduates to our campus and invite them to sign letters of intent to attend a TCAT program," stated Dr. Jim Barrott, executive vice president TCAT Chattanooga. "They represent the future of our community and they will be preparing for that future by completing one of our high technical skill and high demand programs. It will be a great fall 2022 semester with these exceptional students attending."
For more information about TCAT Chattanooga programs, visit chattanoogastate.edu/tcat or call (423) 697-4433.