No Allergies to "Dot Com" for these Cyber Seniors
August 6, 2018 | Betty Proctor | Internal Press Release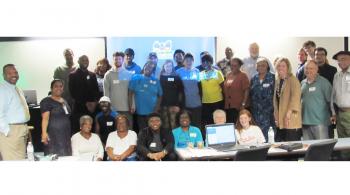 In an age where computers, tablets, and phones are commonplace, there is still a segment of the population who remains cautious about the use of technology and the Internet because they came in on the tail end of the computer revolution. Chattanooga State Information Technology Department Head and Assistant Professor Savitha Pinnepalli has made it her mission to target this gap by creating a service learning program called Cyber Seniors.
Cyber Seniors Computer Skills Workshop is a free one-day workshop designed to help seniors feel more at ease when using technology. It will be held in room 1002 of the Health Science Center on the main campus of Chattanooga State Community College, Monday, September 17 from 11:30 a.m. to 2:30 p.m. Reserved parking will be available for this event.
This program is an on-campus collaborative Service Learning project developed by Pinnepalli. Participants are partnered with Information Technology students serving as mentors. The IT students will interview each participant to identify their current technology skills and then provide customized computer skills training based on their needs. 
John Jones, a 2018 graduate of Web Programming and a mentor from the 2017 Cyber Seniors class, said, "I enjoyed volunteering for the program because it is humbling to realize how much I know but take for granted."
Cyber Seniors Service Learning project enables Chattanooga State's IT students to implement the Institutional Student Learning Outcomes (ISLO) like communication, critical thinking and information literacy. Through community service, students enrich their academic learning experience, soft skills and team work. Service-learning at its best can transform students into life-long learners and change-agents. Their motto is "each one, teach one."
Upon completion of the workshop, participants will receive a certificate of completion. For more information, call Savitha Pinnepalli at 423.697.4756 or email savitha.pinnepalli@chattanoogastate.edu. To register for this free workshop, see https://registration.xenegrade.com/cscc-ce/courseDisplay.cfm?schID=8142.