Military Veterans Honored at Chattanooga State Veterans Luncheon
November 17, 2022 | Betty A. Proctor | Internal Press Release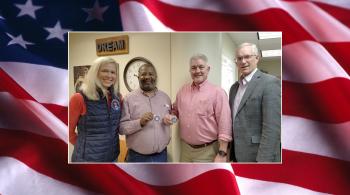 November 17, 2022 (Chattanooga, TN) --- Chattanooga State Community College celebrated veterans at its annual Veterans Day luncheon on November 11, attended by more than 60 students, faculty, staff, and alumni military veterans. During the luncheon, William Visher and Duane Pendergraph received the Chancellor's Commendation for Military Veterans, a special recognition launched three years ago by Tennessee Board of Regents Chancellor Flora W. Tydings. The commendation is conferred in the form of a specially commissioned challenge coin featuring the military branches on one side and the Chancellor's Commendation designation on the other. This honor is given to College System of Tennessee students or employees who exemplify honor, courage, commitment, integrity, respect, discipline, and sacrifice.
"U.S. Navy veteran William Visher, an instructor of English at Chattanooga State, is very passionate about helping others to succeed," stated Dr. Rebecca Ashford, Chattanooga State president. In addition to volunteering at the Campus Tiger Cupboard Food Pantry, serving students who are experiencing food insecurity, William also serves in the community as a Community Kitchen volunteer and as the children's pastor at Woodland Park Baptist Church. Beyond the Chattanooga area, William participated in the holiday toy drive for the Nashville Association of Black Journalists, provides transportation for homeless veterans to the VA Hospital in Murfreesboro, and has served the homeless communities in Dalton, GA, Murfreesboro, TN, and Chattanooga.
"U.S. Marine veteran Duane Pendergraph is a fierce student advocate and an effective leader," stated Dr. Jim Barrott, Tennessee College of Applied Technology (TCAT) executive vice president. Duane has more than 17 years' experience in the trucking industry and currently serves as TCAT's Commercial Truck Driving program coordinator. Duane served tours of duty in North and South Carolina, California, Japan, Norway, Denmark, and Germany. Through his work, Duane has helped hundreds of students—many of whom are veterans—train for good-paying jobs. Additionally, he has helped connect other marines from Camp LeJeune with resources if they have been affected by contaminated water.
Following the Chancellor's Commendation presentations, Mary Ann Ashley presented student veteran Zach Burkett with a specially made quilt from the Quilts of Valor Foundation, whose mission is to cover service members and veterans touched by war with comforting and healing Quilts of Valor. Zach is a currently active Army National Guard Reservist and a U.S. Army veteran (2015-2018) who served during Operation Iraqi Freedom. Burkett, majoring in ChattState's General Engineering program, is on track to graduate in 2023. Following graduation, Zach plans to transfer to the University of Tennessee, Chattanooga to major in Mechanical Engineering. He will return to Army active duty following completion of his bachelor's degree.
Chattanooga State and TCAT actively participate in the Veterans Education Transition Support (VETS) Campus program that recognizes higher education institutions which allocate resources for veterans' successful transition from military service to college enrollment. Chattanooga State successfully completed a Department of Defense Voluntary Education Institution Compliance Self-Review earlier this year.
Veterans seeking information may visit the Veterans Affairs Office or call (423) 697-2509.