Lookout Counseling Association College & Career Fair Sept. 13-14
September 5, 2018 | Betty Proctor | Internal Press Release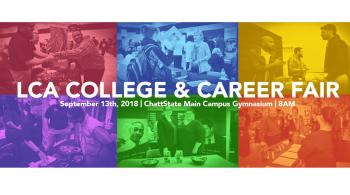 Chattanooga State, in partnership with the Chattanooga Area Chamber of Commerce, will host the Lookout Counseling Association (LCA) College and Career Fair from 9:00 a.m. to 2:00 p.m. on Thursday, Sept. 13 and Friday, Sept. 14. Open to the public, the event will be held in the Gymnasium on the main campus of Chattanooga State Community College, 4501 Amnicola Highway.
Approximately 2,500 high school seniors will be attending the college fair from area high schools located in TN and North Georgia. More than 85 representatives from colleges, universities, military, and industry will be available to discuss career and job opportunities with attendees.
For more information, contact Chattanooga State's Recruiting Office at (423) 697-2689.