Gocher-Johnson Wins Award from Statewide Disabilities Organization
April 11, 2019 | | Internal Press Release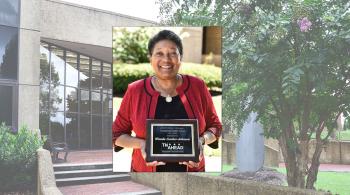 At the Tennessee Association on Higher Education and Disability (TN-AHEAD) statewide conference in Nashville, TN, Wanda Gocher-Johnson won the prestigious Dona Sparger Professional Service Award. This award honors a postsecondary service provider who is a current TN-AHEAD member and has demonstrated exemplary professional service to both TN-AHEAD and to the disability services field through education, advocacy and service. 
Ms. Gocher-Johnson currently serves as the Coordinator of Disabilities Support Services at Chattanooga State Community College. Gocher-Johnson, a 15-year employee of the College, has been an active member of TN-AHEAD since joining in 2004.  She has held several leadership positions within TN-AHEAD: she served on the Board for five years – two years as Secretary and then President-Elect/President/Immediate Past President for a three-year period. She also served as Tennessee's statewide Affiliate Representative at the 2008 AHEAD National Convention in Reno, NV and the 2009 AHEAD National Convention in Louisville, KY.       
TN-AHEAD is the state affiliate of the 3,000-member national organization, the Association on Higher Education and Disability (AHEAD). This organization, founded in 1977, offers disability resource professionals, student affairs personnel, ADA Coordinators, and diversity officers professional development and networking opportunities so that all may create welcoming higher education experiences for those with disabilities. For more information about AHEAD, please visit https://www.ahead.org/about-ahead/about-overview.