Global Scholars Reach Celebration Point
May 8, 2018 | Betty Proctor | Internal Press Release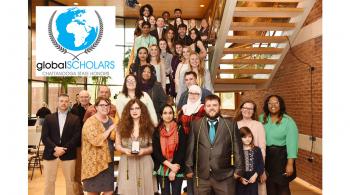 During April's Celebration Point event, 82 Global Scholars graduates, 22 of whom received Global Scholars distinctions during Chattanooga State Community College's commencement on May 6, shared an evening that included awards, food, invited guests, faculty, staff and a keynote address by Sheila Boyington, president of Thinking Media.
Chattanooga State's Global Scholars academic honors program is a highly coveted program open to students who desire to be a part of a learning community comprised of students from all academic majors who share common intellectual curiosity and academic achievement. 
Global Scholars take classes and participate in co-curricular activities together. They also engage in service learning projects designed to make their community and the world a better place to live. Students enjoy smaller class sizes, tutorial lessons, the opportunity to study abroad and low tuition rates. The program accepts qualified students of all ages.
Students graduating with Global Scholars distinctions having earned 15 or more honors hours include:Justin Sam Abraham, Anna Lynn Bozich, Kelsey Morgan Callahan, Terry Robert Cetroli, Lindsey Marie Chesmar, Sofya Andreyevna Chikivchuk, Haley Marie Couch, Mary Ann Ebiefung, Emily Victoria Foutz, Evan Joseph Hall, Mariana Elizabeth Hernandez-Gutierrez, Holly Erin Hess, Logan Max Higdon, Stephen Aaron Hyberger, Hannah Leigh Jones, Diana Patricia Lopez-Solorio, Colin John McCormick, Macy Addison McCuiston, Alyson Brooke McGowan, Nayeli Pinto Nix, Jay Navin Patel, Courtney Michelle Scott and Marissa Rennee Wright.
Additional honors graduates with fewer than 15 honors hours include: Neil Megsham Alay, Kristiana Mikayla Adrian, Emma Elizabeth Allyn, Frederick Lee Arnold, Benjamin Joseph Bates, Alex Darwin Blandon, Katheryn Ruth Bourne, Ianthe Michelle Bryant, Mackenzie Joy Camenisch, Randall Blake Chambers, Savannah C. Champion, Sean Charles Cheely, Aureleai Naomi Curtis, Cameron Nicole Davis, Landon Daniel Edwards, Fatima Sheikh Ejaz, Sandy Lee Gates, Hailey Nicole Gault, Makenzie Anne Goodness, Tim Groot, Hannah Elizabeth Grubb, Chole May Headrick, Tiarra Michelle Hill, Brooklyn Paige Howell, Blake Harrison Hurst, Leah Gabrielle Jackson, Helena K. Jakupovic, Mary Casey Jennings, Kenady Alexis Kitchen, Miranda Kay Lee, Caleb Ralph Lee, Alexis Brie Loudermilk, Melissa Ann Materia, Dylan Patrick Matthews, Roy Kevyn McIntosh, Bailey DeShae Meeks, Cynthia Lake Miller, Emmaly Christine Morgan, Samantha Anne Mulligan, Narcisa Osmancevic, Nathanuel Kaine Oxford, Monikumar B. Patel, Timothy Ryan Perkins, Hannah Fay Plantholt, Katelyn Amber Plumley, Racheal Allen Prince, Hannah Nichole Purcell, William Jennings Roddy, Carolina De Jesus Salazar, Alexandra Larnell Sellers, Gabriel Fernando Shipley, Camille Grecia Singgo, Sarah Aubrey Sisemore, Cecilia Faith Sullivan, Joshua Hilchan Tyler, Raven Camber Trent, Yameli Gomez Velazquez, Gia Veraldi and Jennifer Elaine Williams.
"The Global Scholars Honors program is a source of great pride for Chattanooga State. We are most happy to celebrate the academic achievement of the students who have participated in this academically rigorous program," stated Chattanooga State President Rebecca Ashford.
For more information about Global Scholars, email amanda.bennett@chattanoogastate.edu, call 423.697.2577 or visit https://www.chattanoogastate.edu/global-scholars.