FAFSA Frenzy Days Planned at ChattState
November 9, 2017 | Betty Proctor | Internal Press Release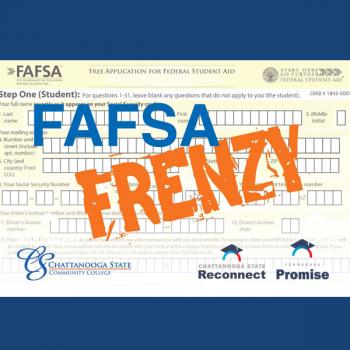 Chattanooga State Community College will be hosting an opportunity for students that are interested in free tuition for the fall 2018 semester at the FAFSA Frenzy.  They will also be offering assistance in the completion process of the 2018-2019 FAFSA (Free Application for Federal Student Aid) as well other financial aid applications.
"FAFSA Frenzy," an effort created through a partnership with the trained staff of the Chattanooga State Financial Aid Department and UTC's Educational Opportunity Center (EOC), will be able to help with student questions about the FAFSA as well as the different student funding opportunities available. The EOC will also be assisting in the Chattanooga State Tiger Express Lab, Student Center 2nd Floor, at the main campus from 10 a.m. to 5p.m. each Thursday. In addition, special FAFSA Frenzy days are planned to help students get ready for college on Thursday, November 16 and Thursday, December 7, from 10 a.m. -7 p.m. in the Tiger Express Lab.
For more information, visit https://www.chattanoogastate.edu/financial/financial-aid or call 423-697-4400.