DACA's Impact on Our Community hosted by ChattState
November 10, 2017 | Betty Proctor | Internal Press Release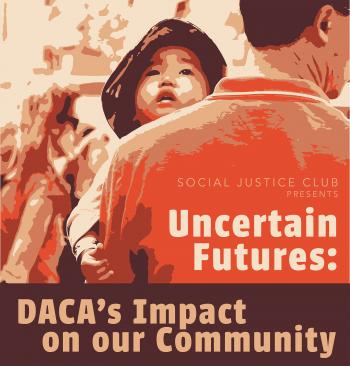 Chattanooga State's Social Justice Club will be hosting two Lee University students who will present their stories as DACA students at the November 13 event, Uncertain Futures: DACA's Impact on Our Community. DACA (The Deferred Action for Childhood Arrivals) was an American immigration policy established by the Obama Administration in June 2012 and allowed some individuals who entered the country as minors and had either entered or remained in the country illegally to receive a renewable two- year period of deferred action from deportation and to be eligible for a work permit. The Policy was rescinded by the Trump administration in September 2017. 
This event will take place on Monday, November 13 from 6:00 -7:15 p.m. in the Health Science Center, room HSC-1087, on Chattanooga State's main campus. A panel discussion will follow, featuring immigration lawyer Martin Lester, former DACA trainer and activist for the Tennessee Immigrants and Refugee Rights Coalition (TIRRC) Felipe Lara, who currently works for UnifiEd; and Chattanooga's Multicultural Affairs Office Director James McKissic.
For more information, contact Mary Knaff, 423-697-3371 or Dr. Michael McCamish, 423-697-2587.