Cyber Seniors Program Provides Digital Literacy Training
July 8, 2019 | | Internal Press Release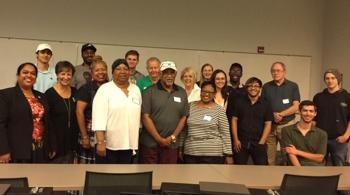 The June cohort class from the Cyber Seniors program paired up 10 summer student mentors with 10 seniors who were eager to learn technology skills. The digital world changes daily and seniors are often overwhelmed by it. Digital devices can include a vast array of smartphones, social media, tablets, ATMs and laptops - and these devices update frequently as well.
Savitha Pinnepalli, Chattanooga State's IT department head, began this successful program in 2018 to help older adults better understand technology, its uses, and to provide them with more confidence to access information and services online. Her IT students learn valuable skills as well by interacting with a population who did not grow up in the digital age. By establishing a rapport with older adults, the students' one-on-one training helped seniors be more comfortable asking questions that mattered to them.
Patrick Ward, cyber defense faculty member, addressed the class to discuss ways to stay safe online such as being cautious while sharing information online as well as social media posts and pictures. Following class, feedback provided by the participants indicated their interest in future offerings. The majority of seniors felt that they began as a novice but completed the program with much more confidence in their ability to handle technology. "The instructors were very caring and made sure I understood the information," "listened to my requests," and "time well spent," were some of the comments from participants, while the student mentors were eager to participate in a future program and felt that their service learning benefited the community.
Free Cyber Senior classes are sponsored by Morning Pointe, Chattanooga State's Workforce Development and Computer Information Technology Departments. This class has become a popular offering for older adults who want to learn more about technology and how to use it.
The next Cyber Seniors class will be offered on September 17, 2019. To register for this free class, call (423) 697-3100 or visit https://www.campusce.net/cscc/course/course.aspx?catId=6.