Cyber Seniors Computer Skills Workshop is Sept. 17
September 12, 2019 | Betty A. Proctor | Internal Press Release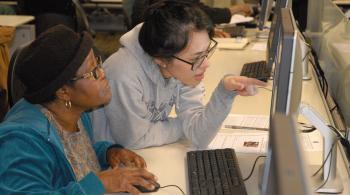 Two years ago, Savitha Pinnepalli developed Cyber Seniors, a free workshop especially for older adults. This wildly popular workshop pairs Chattanooga State IT student mentors with an older adult as part of an on-campus Service Learning project. Student mentors assess the current technology skills of each participant and provide customized computer skills training for their particular client based on their needs.
Older adults are typically uneasy about computers, the internet, and how to stay safe online. This workshop also features a business speaker who leads a presentation on secure browsing and online banking.
Savitha Pinnepalli is an assistant professor and department head for Computer Information Technology (CIT) at Chattanooga State. She assembled Cyber Seniors with support from Chattanooga State's Engineering & Information Technologies and the Economic Workforce Development divisions. This class has become a popular offering for older adults who want to learn more about technology and how to use it.
The next Cyber Seniors class will be offered on September 17, 2019. Currently full, individuals can add their name to "Wait List" by calling (423) 697-3100 or visiting https://www.campusce.net/cscc/course/course.aspx?catId=6.