September 24, 2015 | Betty Proctor | Internal Press Release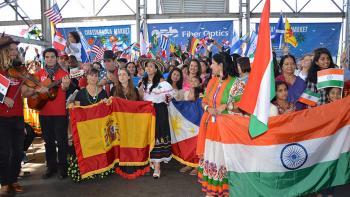 Chattanooga, TN (September 24, 2015) --- The Chattanooga Market, Arts Build, Hamilton County and the City of Chattanooga in partnership with Chattanooga State's International Community Outreach Office will co-host Chattanooga's 16th annual Culture Fest, the area's premiere showcase of international communities and largest annual celebration of local cultures.
Thousands of community members are expected to attend the event, which will take place Sunday, Oct. 4 from 11:00 a.m. – 4:00 p.m. at the First Tennessee Pavilion. Admission is free.
Featured activities and entertainment will include live performances from local cultural groups, a Parade of Nations, a multicultural fashion show, a dance contest and an exhibition of culturally-themed art. Additional opportunities to learn about other cultures will be presented at display booths coordinated by ChattState's Office of International Community Outreach and the Cultural Ambassadors.
Culture Fest will be providing awards for outstanding representatives in the following categories:
·       Best delegation in the Parade of Nations
·       Best cultural display booth
·       Most authentic dress in the multicultural fashion show
During the opening ceremony kickoff, local leadership will present recognition to our expanded and new members of the Cultural Ambassadors and International Achievers. More than 200 local education and workforce development leaders, speaking 30 languages and representing 50 countries will be in attendance. These leaders will help assist in the development of service projects and a new cultural calendar, while serving as translation and cultural etiquette resources to community leaders working to promote regional economic development.
Culture Fest attendees will have the opportunity to meet with representatives that are joining Chattanooga State, the City, the County and ArtsBuild in its efforts to create opportunity and bridges of understanding in the region.
For cultural displays or the international outreach initiatives, please contact Gladys Pineda-Loher at gladys.pineda-loher@chattanoogastate.edu or check www.culturefestcha.org
For information about vendor sales please contact Steve Brehm at:  steve.brehm@chattanoogamarket.org