ChattState Dental Hygiene Students Provide Pop-Up Services
October 28, 2020 | Betty A. Proctor | Internal Press Release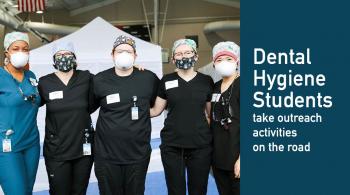 Chattanooga State's Dental Hygiene program faculty sought creative solutions to meet hands-on program requirements for students during clinical rotations. Remote Area Medical® (RAM), an international humanitarian organization that provides free quality care to those in need through pop-up clinics, recently enabled Chattanooga State students to receive credit for providing patient experience. "Pop-up clinics are a great way for our students to gain more clinical experience during these uncertain times," states Angie Maida, dental hygiene director.
"We plan ahead and have faculty staffed at these events so students can offer their services under faculty supervision," notes Ms. Maida. "Everything is provided at no cost to the patients." While dental hygiene students primarily offer cleanings, students also can provide local anesthesia for dental care, work in triage, sterilization and radiology.
Ms. Maida says that experience hours technically fall under service learning and outreach to the community, "but some students simply come for volunteerism because it is 'what we do' as health care professionals, and the experience is invaluable. While other schools may be involved in these clinics, I believe our students were the only ones participating in this particular RAM," adds Maida. "There are several more clinics planned this semester across Tennessee in which our students will participate."
Established in 1974, Chattanooga State's Dental Hygiene program is a two-year associate of applied science degree program, accredited by the Commission on Dental Accreditation of the American Dental Association. In addition to a 100% job placement rate, the program also boasts a 100% pass rate on national exams and clinical boards. For more information, visit chattanoogastate.edu/dental-hygiene.