Chattanooga State's Writers@Work is Sept. 21-25
September 17, 2020 | Joshua Johnson | Internal Press Release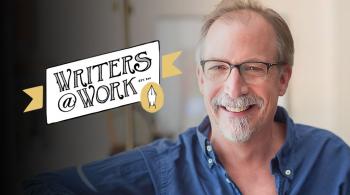 The Chattanooga State Humanities Department's Writers@Work program is excited to present the ninth annual Writers@Work program, featuring best-selling Southern author Daniel Wallace in a week-long virtual celebration of his novel Big Fish, September 21-25, 2020, via popular video conferencing software Zoom. In addition to a robust schedule of online events, Writers@Work will also offer door prizes to participants in this celebration of Southern literature. All events are free, but registration is required at ChattBigRead.org.
This year's Writers@Work program features Daniel Wallace and his novel Big Fish in a week's worth of dynamic virtual programming. Big Fish, published in 1998, quickly rose to best-seller status, was adapted into a film directed by Tim Burton, and became a Broadway musical. Publishers Weekly described the novel as featuring "a plainspoken style dotted with transcendent passages" and possessing "the transformative quality of fable and fairy tale." During the 2019-2020 academic year, Chattanooga State composition students read the novel and wrote about it in their classes. They and the public are invited to attend live online interviews and readings with Daniel Wallace, an interview with Big Fish: The Musical composer/lyricist Andrew Lippa, an edible book festival, and a livestream production of selections from Big Fish: The Musical.
Writers@Work Public Schedule of Events
Event: Inside the Mind of Daniel Wallace: The Behind-the-Writer Interview
Date & Time: Monday, September 21, 7-8:30 PM
Details: Join us online for an interview with author Daniel Wallace about writing, life in the South, and his novel Big Fish. Tune in, ask a question, and maybe win a prize. Register at ChattBigRead.org
Event: From the Page to the Stage: A Discussion of Big Fish: The Musical with Composer/Lyricist Andrew Lippa
Date & Time: Tuesday, September 22, 12-1:30 PM
Details: This is your chance to eavesdrop on a conversation with Andrew Lippa, the famous composer/lyricist behind the hit Broadway musical Big Fish and many others. Find out what it took to transform Wallace's dreamy novel into a celebrated musical production. Register at ChattBigRead.org.
Event: 7th Annual KLIC Edible Book Festival Awards Show
Date & Time: Wednesday, September 23, 12-1 PM
Details: Get out your apron and your mixing bowls. It's time for the Kolwyck Library and Information Commons (KLIC) annual Edible Book Festival. Bake, cook, or create something edible and inspired by literature. Entries will be judged by a panel, and prizes will be awarded for Best Overall, Most Creative, People's Choice, Author's Choice and the Golden Bowl (Best Campus Department entry). Entry details and contest rules TBA.
Event: ChattState Chautauqua: "Fish Out of Water -Translating Fantasy to Film"
Date & Time: Thursday, September 24, 7-8:30 PM
Details: What does Daniel Wallace have to say about the movie business and how his novel Big Fish ended up on the big screen? Come hear it straight from the fish's mouth. Register at ChattBigRead.org.
Event: Big Fish: The Musical
Big Fish: The Musical is presented through special arrangement with Theatrical Rights Worldwide. Book by John August. Music and lyrics by Andrew Lippa.
Date & Time: Friday September 25, 7:30-9 PM
Details: Though social distancing guidelines prohibit large gatherings, the show must go on! Enjoy a virtual night at the theatre with our live stream production of selections from the musical and interviews with the actors. Register at ChattBigRead.org.
For more information about the Writers@Work program or to register for events,
please visit ChattBigRead.org.
Like us on Facebook @ChattState's Writers at Work and follow us on
Instagram and Twitter @CSWritersAtWork.
Writers@Work was founded in 2011 by the Chattanooga State Community College Humanities Department to enhance the practice of literary analysis in its Composition 2 classes through the reading of a common text with a focus on Southerners and their culture. It has become an annual arts experience that touches the lives of countless people in the greater Chattanooga area by providing opportunities for the public to interact with visiting authors at free events. Past W@W authors include Terry Kay, Ishmael Reed, Jill McCorkle, Rick Bragg, Lila Quintero Weaver, Ron Rash, Robert Morgan, Tayari Jones, George Singleton, Tom Franklin, and Beth Ann Fennelly. Now in its ninth year, W@W is proud to welcome Daniel Wallace in 2020 and looks forward to welcoming Pulitzer Prize-winning poet Jericho Brown in March 2021.