Chattanooga States Hosts TCCAA/NJCAA Conference Tournament
February 27, 2018 | Betty Proctor | Internal Press Release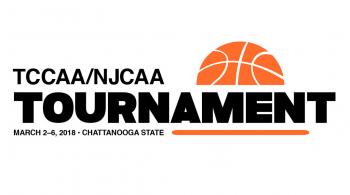 Chattanooga State Community College will host the 2018 TCCAA/NJCAA Region VII conference tournament from March 2-6 in the Chattanooga State Gymnasium. Men's and women's basketball teams from Chattanooga State, Cleveland State, Columbia State, Dyersburg State, Jackson State, Motlow State, Roane State, Southwest Tennessee, Volunteer State and Walters State will be competing for the conference championship and the right to play in the NJCAA national tournament.
The Tennessee Community College Athletic Association (TCCAA) is a member of the National Junior College Athletic Association (NJCAA) whose mission is to promote and foster two-year college athletics. It is divided into 24 regions of which Tennessee is Region VII. The 2018 tournament is single-elimination with seeds 1-6 receiving a first-round bye.
The tournament kicks off on Friday, March 2 with the tip-offs for men's games beginning at 2:00 and 4:00 p.m. followed by women's play at 6:00 and 8:00 p.m. All men's games will be played throughout the day on Saturday, March 3, while Sunday, March 4 will see the women in action. Semi-final games will take place on Monday, March 5 for both men and women. The championship games will be held Tuesday, March 6. Men play at 2:00 p.m. followed by the women who play at 4:00 p.m.
Current TCCAA Conference Men's standings show Southwest Tennessee leading the conference 14W-3L, with Motlow State at 13W-4L, followed by Chattanooga State at 13W-5W. For the Women, Walters State leads at 17W-0L followed by Southwest Tennessee  at 13W-4L, and Chattanooga State at 11W-7L. Watch for complete tournament information, with game times for participating teams at https://www.chattanoogastate.edu/tccaa-2018-tournament.