Chattanooga State Wins Outstanding Workforce Development Award
August 2, 2018 | Betty Proctor | Internal Press Release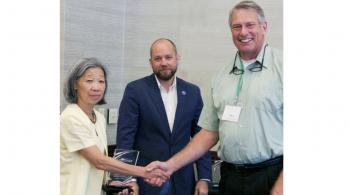 The Economic and Workforce Development Division of Chattanooga State Community College was named the 2018 recipient of the Outstanding Workforce Development Award from the Community Colleges of Appalachia (CCA) during the 28th Annual Conference in Asheville, NC. 
The winning entry, "New Learners from Old Friends," focused on Chattanooga State's longstanding partnership with Whirlpool Corporation to describe how the college was able to develop re-training solutions for their workforce who would be working with state-of-the-art robotic and mechatronic systems in a new $200 million pant. The challenge was to get the workforce up to speed while maintaining current operations.
Over the past 10 years, Chattanooga State has seen the importance from the explosion of workforces of the future that changing relationships must be further built with industry to develop tomorrow's curriculum today.
CCA is a voluntary association of public community colleges serving the common interests of member colleges and their communities through programs and services responsive to the unique cultural, geographic, and economic development challenges facing the region.
Chattanooga State's Division of Economic and Workforce Development collaborates with businesses and industry to create and deploy customizable training solutions at the speed of business. For more information about how your company may benefit from Chattanooga State's Division of Economic and Workforce Development, call 423.697.3100 or visit www.chattanoogastate.edu/workforce-development.