Chattanooga State TCAT Open House Announced
June 27, 2022 | Betty A. Proctor | Internal Press Release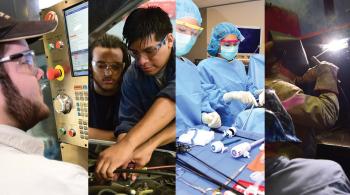 June 27, 2022 (Chattanooga, TN) --- The Tennessee College of Applied Technology (TCAT) at Chattanooga State Community College has announced its upcoming Career in a Year Open House set for Wednesday, July 20 from 10 a.m. to 6 p.m.
Students completing one of 28 TCAT Chattanooga programs can earn a technical diploma or certificate in one year or less, are fully prepared for their career, and more than 94% enter the job market following graduation. Open to the community, the TCAT Open House is an event where both high school graduates and adults will be able to explore the programs available and meet program instructors to ask questions that may help in deciding their career path.
Besides touring the TCAT building, attendees may take a campus tour and speak with personnel about admissions, registration, and financial aid options. 2022 Tennessee high school graduates may use Tennessee Promise to enroll in any program, while Tennessee adults can apply for Tennessee Reconnect. Tennessee residents of any age entering a TCAT program are also eligible to receive the $2K Wilder-Naifeh Technical Skills Grant. These financial aid options often allow students to carry little-to-no college debt.
TCAT Chattanooga presents other opportunities for its students such as membership in the National Technical Honor Society (for qualifying students) and participating in SkillsUSA where competitors in their programs can earn a gold, silver or bronze medal at the state level. In 2022, gold medals were awarded to 32 ChattState competitors and these medalists advanced to the national level.
Exploring programs is not the only activity planned for the TCAT Open House. Enjoy games and music, win prizes, and walk away with not only college swag, but quite possibly a new vision for your future.
Chattanooga State is located at 4501 Amnicola Highway, Chattanooga, TN 37406. Individuals attending the event may enter using Chattanooga State's West Entrance. Follow signs to the TCAT building. Call (423) 697-4433 with questions or visit https://bit.ly/3tTAb9t.