Chattanooga State Premieres Bond Arts & Culture Heritage Series
September 22, 2020 | Betty A. Proctor | Internal Press Release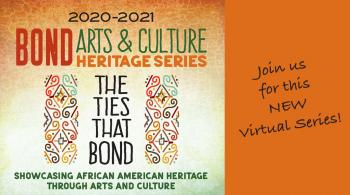 Chattanooga State Community College premieres the virtual Bond Arts and Culture Series this week showcasing African American heritage through arts and culture. 
Tagged "The Ties That Bond," the series is named in honor of the late Dr. Claude C. Bond, a longtime educator and activist. Chattanooga State's Humanities building is named in Dr. Bond's honor. Bond was known in the community for his work toward improving race relations and his ability to bring people together to help forge a more integrated society through the building of relationships between races.  
This week's events will focus on an introduction of the Bond Arts and Culture Series including a remembrance video about Dr. Bond. On September 23 from 1:00 to 2:00 p.m., join Councilman Anthony Byrd and Hamilton County school board member Karitsa Jones as they explore politics in our community and getting involved in local government. Register for this virtual panel discussion at https://bit.ly/3kx2GTi. 
Events continue in October with an October 7 session titled "Celebrating Afro Latinx Culture." This virtual event will be held from 1:00 to 2:00 p.m. Register at https://bit.ly/3ckFLI5. 
This new series is sponsored by the Lyndhurst Foundation and Chattanooga State's Humanities and Fine Arts Division with partnership from ArtsBuild. Please visit Chattanooga State's event calendar for additional series offerings at chattanoogastate.edu/events.