Chattanooga State Announces Fall 2021 Dean's List
December 22, 2021 | Betty A. Proctor | Internal Press Release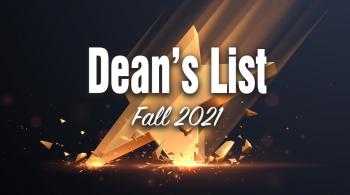 Chattanooga State is proud to announce that the following students from its six-county area have attained Dean's List status for the 2021 fall semester. Eligibility requirements to make the Dean's List includes students who have completed 12 or more hours of college-level work with a grade point average (GPA) of 3.5 or higher for that semester. Dean's List recognition is based on calculations at the end of the semester and cannot be updated later to reflect grade changes, such as removal of incompletes.
BLEDSOE COUNTY: Brianna N. Allen, John S. Feezell, Kenzie Lanae Finkel, Trenton Conrad Finkel, Layla Rhea George, Megan Hale, Brittany NIchole Hickman, William Ray Keener, Benjamin Isaac Norton, Carlie Elisabeth Simmons. 
GRUNDY COUNTY: Christian Alexander Ball, Chandler James Guffey, Devan Scott Layne, Charlee Nickole Meeks, Ethan Charles Myers, Harley Grace Nunley, Caden Geary Rose, Ensley Brianna Stevens, Hanna Kerstin Tate.
MARION COUNTY: Cassidy Faith Andry, Elizabeth Skye Baxter, Nicholas Wade Bolden, Olivia Jordan Bradford, Elizabeth Karol Cagle, Allie Ireland Campbell, Emmalee Marie Chance, Kayla Lee Chandler, Abigail Margret Charron, Cole Zachariah Collins, Peyton Ryan Daniels, Bailey Elizabeth Davis, Alonzo Chase Devore, Aaliyah M. Felix, Mckenna Curry Fuqua, Ethan Lee Grider, Kaylee Matthew Haggard, Riley Alexander Hammond, Reagan Ava-Jean Hansard, Cayden Alexzander Holland, Caden Ivory, Rebecca Elizabeth Jordan, Murphy Legg, Walter Seth McClain, Kiley M. Mcdaniel, Randi B. Mosier, Olivia Faith Newson, Dylan Roop, Alison Brooke Scott, Logan Wes Seagroves, James K. Sellers, Alicia Kay Slatton, Joshua Cale Smith, Kameron D. Stewart, Madison Brooke Trouy, Sydney Erin Walter, Brittney Elizabeth Watley, Faith Nicole Wyatt.
RHEA COUNTY: Mary Katelyn Aven, Gram Thomas Blaylock, Moriah B. Brown, Alexis June Burton, Jason Thomas Colson, Timothy D. Conley, Falon Cornwell, Ashton Hope Corvin, Madison Danielle Edwards, Wesley Antonio-Tomás Freeman, Hannah G. Hall, Ellie Lorin Hickman, Kiersten Marie Kile, Omar Dario Lopez Ramirez, Aidan Perry Massengill, Ashlen Grace McClendon, Jackson J. McDaniel, Layla Jasmine McFalls, Savanna Michelle Neal, William Tyler Nelson, Floraangela Paz Cruz, Estafani Perez-Nunez, Erin Marie Powers, Samantha Faith Riggs, Zackery Clyde Sampley, Jose Fernando Santiago, Michelle Santiago, Isaac Jayden Scott, Amanda Rae Seale, Gavin Michael Shaver, Kiara Jade Sherrill, Valerie Paige Feese Sinclair, Brooklyn Taylor-Ann Smith, Savannah Nicole Smith, Andy Solorzano Sanchez, Sean Parker Turner, Jackson K. Vincent, Megan Welch, Cierra Grace Wilson.
SEQUATCHIE COUNTY: Lesley Akers, Chloe D. Barger, Richard E Brewer, Katherine Grace Bryant, Kendra Cheyenne Carlie Easterly, Nicholas Sean Ewton, Martha Beatriz Flores, Ethan E. Grant, Marissa Lynn Hales, Griffin Carr Hall, Rickey Dakota Harvey, Hadee Rose Hedrick, Brayden Tatum Henry, Destiny Nicole Holden, Brandon Scott Holland, Alexis Emery Hrinik, Alli Nicole Johnson, Teja Alisha Jordan, Victoria Elizabeth Keener, Ryan James McBride, Kristen Jade McCown, Jayden Lee Miller, Madison Kendal Milligan, Katelyn Elizabeth Moore, Nathaniel Wayne Myers, Sarah Kaitlin Reagan, Bryson L. Simmons, Brittlee Lashawn Skiles, Abby Smith, Danielle Marie Smith, Haven Renea Smith, Taylor Brooke Suggs, Gavin Ellis Walter, Gabrielle Ann Whipple.
HAMILTON COUNTY: Jason Mayo Acree, Vivian R. Acuff, Brenton Jai Adams, Colby P. Adams, Emily Jeanette Adkins, Enoch Spencer Adkins, Lucas Amadeo Aedo, Zackery G. Aguirre, Jaylen A. Akins, Jordan Walid Alazzam, Lisaem Alvarez Alldaffer, Monya C. Alsept, Daniel Alvarado-Gonzalez, Daniel Alvarez, Preston Matthew Anastas, Megan Andersen, Makayla Janae Anderson, Samuel Chandy Andrews, Aiden James Appel, Summer Noelle Aragon, James Chendi Archer, Caleb Aytes, Julie K Baggi, Nolan Harrison Baker, Breanna Baldwin, Karlee Ball, Tia Octavia Ball, MaKenzie Joi Ballard, Jeannie Maria Banks, Jeremiah Wayne Barkley, Anthony I. Barrett, Michael David Barron, Megan Nicole Barrott, Jacob Caeser Bastien, Kee Marcello Baxa, Richard H. Baxter, Trinity Grace Baxter, Tristan Thomas Bean, Katelyn Alexandra Bechtel, Gabriella Grace Beck, Lacie A. Behary, Anthony Lebron Bell, Milan Ashton Taylor Benedetti, Kevin Amon Bennett, Kaci Elaine Billingsley, Megan C. Black, Kaleb Kennith Blanton, Alexander Michael Bledsoe, Vanessa Marie Blue, Shanese Lavon Bonner, Madeline Rose Boshers, Kiah S. Bostwick, William J. Bowman, Alexis Boyd, Leah Grace Boyd, Markqierya S. Boyd, Weston Charles Braddock, Frank Spencer Bradford, Jacob Craig Brady, Jeniya Janee Brady, Paula Jeanette Branan, Lilian Mae Branch, Raven Jade Brandt, Anne J. Brien-Slack, Dennis R. Brodeur, Jocelyn Joanie Marie Brodeur, Larry Ronald Brodeur, Monica Noelle Brouillard, Amelia YueMin Browder, Annmarie Grace Brown, Michelle D. Brown, Sydney Paige Brown, Samantha Nicole Buffington, Gracelyn B. Burgess, Malaysia Symone Burgess, Dallas Scott Burkes, Antony Sergiy Burlaka, Ruth Forbes Burnette, Alonza Dewayne Burton, Erica Danielle Burton, Daniela Caicedo, Holli Renee Camp, Debra J. Campbell, Kenneth Card, Jeanne Carmichael, Mackenzie L. Carr, Sarah Rose Carrell, Kendra Rae Carroll, Karen Lisset Castillo, Jacob Altick Cate, Francheska Carolina Cermeno Rosal, Michael Leon Chambers, Benjamin Shayne Champion, Kuan Jung Chang, Mary Kate Chapman, Eric N. Chen, Mindy Chen, Arturo Garcia Chilel, Jack Eugene Chislett, Cyrus Kun-Hee Cho, Amber S Choice, Zoe Alexander Clarke, Baylie Elyse Clements, Kady Susannah Clemons, Shandelle Clifton, Stacy Renee Clowdus, Madison Riley Collins, Nicole Daniele Comis, Ashley Brooke Commander, David Jeffery Conn, Faith Maria Cope, Abigail L. Corcoran, Emily S. Core, Hardin Wade Cowan, Adrienne Jeanne Cox, Dylan Reliance Cox, Jamye LaShay Crabtree, Isabella Marie Craig, Kelvin Lee Cranfield, Mekell Wadec Cranmore, Karla L. Cross, Breena A. Crowe, Ronald Crumsey, Tristan Douglas Cudd, Mary Harlee Cullum, Nicole K Cushman, Nicholas A. D'Angelo, William Moore Daniel, Corah Marie Davidson, Daphne D. Davidson, Makenzie B. Davidson, Alexa Grace Davis, Dominique Jordan Davis, Emma Grace Davis, Hunter Lee Davis, John Dillon Davis, Parker James Davis, Tremel Demon Davis, Michaela Ashlyn Dawson, Natalie Joelle Deans, Molly Amanda Dedrick, Stephan Robert Demilt, Brandon W. Denley, Madison Brooke Devilbiss, Bryce DiDonato, Kenneth Dias-Nogueira, Santana K. Dickerson, Bailey Nicole Dickson, Brenda Olga Dolmuz, Giselle Nichole Dolmuz, Webb Keir Doxey, Sophia Kamal Dozier, Sophia Jewell Duke, Alexandria Nichole Dukes, Lejla Dukic, Wesley Scott Duncan, Yolanda Shunte' Dunham, Brian A. Dunn, Jayde Alexandra Durham, Mike Dzhuga, India Simone Eberhardt, Shanterra Aaliyah Echols, Cierra Brooke Edwards, Hannah Edwards, Zenkline Walden Daan Elle, Jacob T. Elliott, Sarah Madeline Elliott, Caleb Ellis, Jody Emanuel, Ashley Erin Espinoza, Levi Michael Farber, Calen Finch, Sara Michelle Finley, Sunshine Dallice Finnell, Cody J. Flores, Ashlyn Elizabeth Ford, Michael J. Forker, Keaton Hugh Forrester, Caleb A. Fowler, Joshua E. Fritts, Kimberly Michelle Gaddes, Aleah Robin Gallaher, Caitlin May Gardner, Emily Michaela Gates, Yvette G. Gatica, Drew Richelle Gawron, Emily Nicole Gebhard, Madeline Ilene Gentry, Katie Marie George, Joshua Georgekutty, Michelle Faith Geren, Delaney Paige Gessman, David Jonathan Gibbens, Natalie Ann Gill, Casey James Goins, Datiel Gomez, Terence Arturo Gomez, Alice A Gomis, Christian Nathaniel Gonzalez, Angelique Gonzalez Flores, Elijah P. Gordon, Alyssa Caroline Goss, Cameron Ackerman Grace, Brianna Lee Grant, Evelyn Jennifer Gray, Destiny Faith Green, Gabriella L. Green, Ronnie Green, Tayari Inesha Green, Samantha Sue Griffith, Anthony Guerrero, Diomary Valentina Guerrero, Zoey Ray Guess, Mouhamed Gueye, Tara Skylar Gurrola, Elijah Samuel Gutierrez, Shannon Rae Gutierrez, Cara Elizabeth Halenar, Victoria Taylor Hall, Shelby Brook Hamby, Natalie Anne Hammel, Cameron Tyler Hand, Joy Lynne Hansen, Kurstyn Reese Hardin, Asya J Harper, Trevor Colton Harper, Amber Denessa Harris, Avianna Nicole Harris, Christina Roberta Harris, Clifford Brimmer Harris, Frank Lee Harris, Robert Anthony Harris, Sophia Dionne Harris, Melissa M. Hawk, Eddie Louis Hawken, Noah Douglas Hawkins, Hannah Chase Haynie, Joseph Dylan Hendricks, Mark Stephen Hendrix, Andrew Henry Hicks, William Garrett Higgins, Christopher Carter Hines, Jordan Timothy Hinton, Emily Ho, Taylor Nichole Holland, Evan A. Hollis, Triniti Leshay Holmes, Ryan M. Holovacko, Holleigh R. Hood, Latricia Hood, Trammell Davis Hooker, Izek Nathaniel Hoppe, Aliya Davyn Hoskinson, Celia Ann Hough, Landon W. Howard, Ashlie Brooke Hubbard, Stefan William Huber, Sarah Elisabeth Hudgens, Morgan Rose Hughes, Anna Machelle Hutchings, Connor Reichman Ingram, Jameson Edward Ingram, Maria Leticia Jacinto, Adrianna Jackson, David A. Jackson, Kera Lea Jackson, Marielle Jadlot, Wycliffe Kishabe Jangdharrie, Amaya Lea Jensen, Zachary Thomas Jeppesen, Rebecca Grace Jeter, Kaveri M. Jimenez, Andrew Connor Johnson, Devyn Nicole Johnson, Emma Beth Johnson, Isabella Grace Johnson, Kenneth Dale Johnston, Bradley C. Jones, Colyn S. Jones, Jamell Michole Jones, Sydney Jones, Alexander Kristin Judia, Savannah Weaks Kelso, Cameron Brooke Kennedy, Macy Ann Kesley, Mattison C. Keur, Ian Matthew Kibby, Alexis R. Kidd, Othniel Sean Jaesung Kim, Nicholas Izaac Kincaid, Sylvie Justine King, Jordan Tyree Kirby, Herbert Roy Klischies, Rickie Kingston Knox, Sonia Koch, Kai Lee Kramer, Danielle Lynn Krepfl, James Callan Kroll, Simon Kwon, Krystena R. Land, Tasha Nakay Lander, Erika Hope Landess, Kathlynn G. Large, Melody Rose LeMonds, Madeline Claire Ledbetter, Jennifer Botts Ledford, Jaydah Brianna Lee, Madeline Claire Lee, Cameron Joseph Legge, Jaye Lydia Levin, Alexis Rose Lewis, Ian True Lewis, Jordan Leigh-Ann Lewis, Jon Christian Light, Maleah Ta Liptak, Brittnie Cuzzort Little, Mary G Little, Kaye Llanes, Hunter Nicole Logsdon, Vivian Jean Long, Keeley M. Longoria, Parker Love, Jordan Kylie Lowe, Madelyn Mingxia Lowrance, Yancy Dillon Luttrell, Julia Daniel Lyashevskiy, Isabella Grace Mahan, Ewan Thomas Manalo, Chase Scott Manton, Valorie Marcellus, Saylor Lyn Marchand, Andrew David Marshall, Kristen Leigh Martin, Mya Martinez, Miracle Mathis, Jacob Andrew Matthews, Sarah Matthews, Matthew Scott McAdams, Ava Grace McBryar, Madelyne Rene McCreary, Lisa Pell McDonald, Corbin Bradford McDonough, Kristen M. McGhie, Chris Bobby McGill, Evan Charles McIntyre, Ethan Connor McJunkin, Shannon McNally, Paige Jared McWilliams, Jonathon Mccoy, Ana Consuelo Medina Rodriguez, Mukayla Breanna Lynn Meeks, Floridalma Mejia-Hernandez, Carissa Anne Melton, James Joseph Miettunen, Ilya Mikhaylishin, Christopher Ryan Miller, Collin Joseph Miller, Kassidy Marie Miller, Ladale Treva Miller, Timothy Miller, Chloe Danielle Milligan, Christopher D Milsaps, Samantha Leigh Minchew, Emily M Mitchell, Marmion Spencer Montgomery, Jose M. Moreno, Hunter Aaron Morgan, Hunter Chase Morgan, Ronnie Richardo Morris, Mystelle J. Moseley, Cheyenne Ridley Moses, Nolan Elijah Mott, Brittany C. Murphy, Ian G. Murphy, Tamsin A. Murphy, Marie Danielle Musgrave, Rebecca Ann Musgrave, Ozair Taufiq Mustafa, Lillian Sadie Myhan, Robert Nelson, Zennia Akiah Nesmith, Alexander Brice Nunley, Marcus Otieno Odeny, Bryanna Victoria Opperman, James Richard Ortiz, Muhyiddin B. Osman, Taylor Elise Oswalt, Anthony Wayne Overturf, Genevie Liana Owen, David Pahle, Damon Parker, Ethan Parker, Max Parker, Kaitlyn A. Parsley, Soren M. Partap, Suchi Hiteshkumar Patel, Vraj Pinal Patel, Cade William Patterson, Kimberly Ann Patterson, Bailey Isabel Payne, Ramar Aris Peacock, Madeline Grace Pell, Donna D. Penney, Tirzah Naomi Perez, Vanessa Pascuala Perez Xiloj, Jarius Stephan Perkins, Joelle Marie Pester, Ebony L. Pettaway, Sydney M. Petty, James Tran Pham, Alyssa Nicole Phillips, Lillie E. Pickens, Rebecca Lindsay Pierce, Anthony Pilgrims, Cooper Joseph Plotner, Molly Beth Plumlee, Greyson Ponder, Zac A. Porter, Alyssa Taylor Posey, Kohl A. Prescott, Ally Priddy, Kenneth Colten Priest, Kai Robert Pritchett, Hannah Grace Pruett, Joshua Zane Pruett, Shayna Jessica Pruitt, Ana Unique Prust, Brody Evan Pryor, James Eric Rader, Irma Rafael Lopez, Syeda Annur Rahman, Bryce William Raper, Sakinah Aishah Rashid, Sydney Leann Ratledge, Emma Grace Ray, Elisabeth Reed, William Alexander Reinhardt, Jes Malayil Reji, Michelle Revollo, Leilani Dahlia Reyes, Michael Scott Rhea, Stephanie Hope Rhoades, Jahmes Kavaghn Richardson, Kylie Dianne Richmond, Lucas Justin Ridge, Perla Rios, Kayla Janay Rivers, Carter Ashton Roberson, Martina Danielle Roberts, Nicholas Taylor Roberts, Dorothy V. Robertson, Joseph Dylan James Robinson, Robb Martin Roble, Jose Alberto Rocha, Danela Rodriguez, Aaron Rodriguez Trejo, Jonathan Abraham Rogers, Lee Aaron Rosenberg, Rhianna Alicia Ross, Petra Keen Rostova, Tariq Tigris Roundtree, Mika Christopher Rouse, Annelise Rowell, Jeswin Abraham Roy, Reid Ruckman, David Rudek, Megan Isabelle Ruiz, Justin Evan Rumer, Jared Lee Runyon, Elissa Rutherford, Abigail Grace Salley, Stephanie Elizabeth Sanchez, Allison Savard, Jonah Thomas Sawyer, Breanna Marie Schiavo, Anita Schrimsher, Autumn Lynn Schulmeister, Destiny Mache Scoggins, Madison Bailey Scott, Quincy L. Scott, Asia Yasmin Scott-Taylor, Maya Grace Minxuan Scribner, Navaneethakrishnan Seetharaman, Maximillian Arthur Seiler, Makenna Karlee Seitz, Caleigh N. Shannon, Shequoya N. Shell, Emma Corrine Shelley, Luke Ryan Sheppard, Vance Corbett Sherlin, Brooke Inez Shropshire, Luke E. Silvious, Heather L. Simmons, Joshua Wade Simoneaux, Abigail Faith Simpkins, Olivia Ann Simpson, Erica Bre'Shaun Sims, Kaitlin Elizabeth Sipe, Francois G. Slabber, Andrew Slater, Chloe Madison Slayton, Justin Smallwood, Ethen Alexander Smith, Hannah Ivey Smith, Jarod T. Smith, Kajsa Smith, Kendall M. Smith, Maycon L. Smith, Payton Michelle Smith, Samuel I. Smith, Sean James Smith, Shonna Lynn Smith, Sydney Kristine Smith, Wesley M. Smith, Carley L. Smoot, Erin Leigh Smoot, Ryan E. Snyder, Vivian Song, Ryan Lee Sooley, Tiffany Lee Spain, Peter Joseph Sparks, Erika Lynn Steiman, Casey Lynn Stepp, Sandra Jewel Stewart, Sebastian Oliver Stewart, Ella Grace Stidham, Lindsey Lee Stone, Chandler Stephen Strickland, Mykal Spencer Suddeth, Bryson William Summers, Chad Suttles, Jason Donald Swafford, Patrick Robert Sylar, Jadiel Marcella Nyaradzo Tarukwasha, William Taylor Tharpe, Madison Leanne Thomas, Kristy Lynn Thomasson, Brittany Allison Thompson, Carlos Dewayne Tibbs, Angelia Nicole Tipton, Adam-Bradley R. Tisdale, Benjamin M. Tomlin, Noemy Torres, Brock Isabelle Tramel, Angel Noel Trammell, Huy Duc Tran, Kaleb Lam Tran, Tuan Trang Tran, Christopher Mason Travis, Zoe Mae Travis, Preston Turner Troxel, Hong Vi Thi Truong, Nathan Tuckfield, Timothy Caleb Turner, Marc Caleb Underwood, Bryce Vandyke, Ava Hansen Varnell, Sam Conley Varnell, Jarwin Vasquez, Ingrid Yaneth Vicente, Nancy Caroline Vining, Erin Diana Wade, Kyle Robert Wade, John Samuel Waggoner, Spencer Joseph Wagner, David Levi Wallace, Christopher A. Walsh, Andrew Issac Watson, Chad Anthony Waye, Morgan Chandler Weatherford, Maria Weaver, Jonathan Lee Welch, Julie Morganne Wertanen, Haley J. West, Kathryn Elise West, Jenna N. Westfall, Charles Landon Wheaton, Shelby Rose Wheeler, Charlene Hong White, Madison Renee White, Quinterius Javonta White, Karsten Alexa Whitley, Memphis David Widener, Jacob Thomas Wildman, Roland Blake Wilkerson, Sydney Lauren Wilkerson, Amber Nicole Wilkins, Natalie Mae Wilkinson, Kailey Elizabeth Willhelm, Alec P. Williams, Alyssa T. Williams, Breanna L. Williams, Jennifer Marie Williams, Jacob Tyler Wilson, Jonathan Lucas Wilson, Olivia Kamaryn Wilson, Zion J. Wilson, Logan T. Wingfield, Johanna Grace Woodruff, Andrea Maryeri Woody, Shelby Elaine Woolwine, Grace Elizabeth Wright, Daniel L. Wyatt, Melanie Dawn Wyatt, Eric Jay Yother, Christopher James Young, Rachel Allison Young, Zankeia Kerrial Young, Sergio Antonio Zarco Aguilar, Jiashu Zhang, Jordan D. Zink.
Congratulations to these students on their academic accomplishments! For a complete list of all students named to the Fall 2021 Dean's List, including students outside our service area, visit the Chattanooga State Facebook page at https://www.facebook.com/ChattState/posts/10159917977406228.