ACT Names Tony Cates as Tennessee Workforce Champion
June 8, 2018 | Betty Proctor | Internal Press Release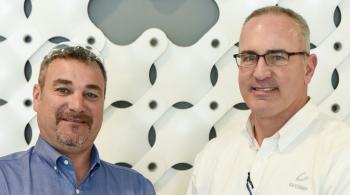 Tony Cates of Gestamp has been selected as the ACT College and Career Readiness Workforce Champion of Tennessee – the state's sole recipient. Workforce champions are individuals who are honored for making a difference in preparing individuals for college and career success. ACT is well known for its mission of education and workplace success.
"Tony was nominated for his strong commitment to the development of the workforce through education. His latest commitment, in conjunction with Hamilton County Schools, was the development of a high school that allows at-risk juniors and seniors the opportunity to attend high school four hours a day and work four hours a day. Classes and work take place at one of three Gestamp locations in Chattanooga," shares Dr. Jim Barrott, executive vice president for TN College of Applied Technology.
To be named an ACT Workforce Champion, nominees must have created or led a program that positively impacts their company and community through improved hiring practices, apprenticeships/internships, or community leadership. The individual must be a full-time employee at a for-profit or not-for-profit company or organization in any role, and the individual's program or initiative must have included community partnerships (education institutions, chambers of commerce, Work Ready Community, etc.). Applicants include examples of their program's return on investment and its ability to be replicated as a best practice.
Cates, an employee of Gestamp Chattanooga, LLC since 2009, is a Human Resources Manager. He began his association with Chattanooga State Community College in 1995. He has been in HR in the local area for the past 24 years. "I am excited to be recognized as a workforce champion for the state and thankful for Chattanooga State's recommendation, but this is an everyday part of any HR manager's role. Making sure that your company has the best, most educated, and most skilled colleagues is crucial. Ensuring that young people know about the different pathways in advanced manufacturing and other careers is something we owe to them because they are the future. Corey Jahn, Gestamp Plant Director, has made it easy to get involved with our community because we both believe in developing students and partnering with our local schools and parents to ensure students are ready to work and will be successful.  Companies, schools, and parents are all in this together and must invest in developing our next generations," said Cates.