7th Annual Dinner of Firsts Surpasses $77K in Scholarships
December 21, 2018 | Betty Proctor | Internal Press Release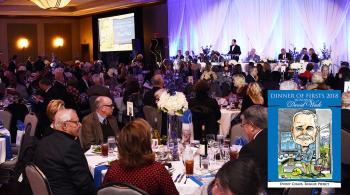 Chattanooga State's Dinner of Firsts 2018 was once again a resounding success! We are pleased to report net proceeds for the event totaled over $77,000 with $46,000 going to the Tom Edd Wilson First in the Family Endowed Scholarship and $31,000 to the annual First in the Family Scholarship.
This seventh annual dinner event honored local community leader and Chattanooga State graduate David Wade with Reggie Piercy serving as event Chair. David is also the President & CEO of the Electric Power Board of Chattanooga. Those roasting David included Todd Crawford, Joe Ferguson, Richard Rogers, Steve Rogers, Justin Wade, and Aaron Webb. Jed Mescon served as the Master of Ceremonies.
The evening began with an opening Toast by Co-Hosts and Evening Sponsors Greg Vital, President & CEO of Independent HealthCare Properties & Morning Pointe and Jay Dale, Market President of First Tennessee.
Chattanooga State is grateful to our 49 corporate and individual table sponsors, the many individuals who reserved seats, and all those who made donations to the Tom Edd Wilson First in the Family Endowed Scholarship for their support of our annual fundraiser. We were also honored to have Brewer Media Group, the Chattanooga Times Free Press, and WTCI-TV as our media sponsors. Our beautiful floral arrangements were provided by Chattanooga Funeral Home, Crematory & Florist.
This event would not have been possible without support from a talented and hardworking group of volunteers that included Kevin Beirne, Alan Cates, Stefanie Crowe, Marsha Easter, Harry Fields, Jim Fry, Linda Hisey, Richard Johnson, Bobby Lusk, Hodgen Mainda, Maricela Rodriguez, Edna Varner, and Tammy Zumbrun.
For more information on First in the Family Scholarships or other giving opportunities, visit https://www.chattanoogastate.edu/giveor call (423) 697-3359.