5th Annual Latin Festival is Sat., Sept. 14
September 4, 2019 | Nancy Patterson | Internal Press Release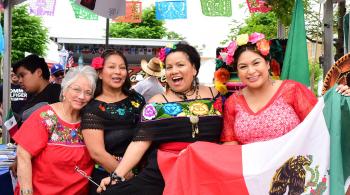 Chattanooga State Community College is pleased to host the 5th Annual Latin Festival on Saturday, September 14 from 11 a.m. to 3 p.m. The event will be held on the main campus of Chattanooga State located at 4501 Amnicola Highway, and the free festival kicks-off Hispanic Heritage Month which officially starts the following day.
Visitors from across our region will enjoy local Latino culture with live music, Latin dancing, authentic food, and hands-on activities for all ages.
Performances include traditional dances from El Salvador and Puerto Rico, the East Lake Expression Engine, the Chattanooga State Choir and Symphonic Band, traditional Latin American songs, and Bachata dance instruction.
Food vendors will be selling empanadas, arepas, tamales, pollo loco, nachos, tacos, quesadillas, Mexican-style chargrilled chicken, street corn, paletas (natural Latin-style popsicles) and more.
Operation Get Active, a program of the Chattanooga Football Club Foundation, will have  inflatable soccer fields for 3-on-3 play with CFC-themed prizes for the teams that win more than five games in a row.
Lily Sanchez of La Paz will serve as emcee for the festival joined by Cempa Community Care and TVA as top sponsors. Proceeds from the event support the Chattanooga State Latino Scholarship.
For more information, visit the event Facebook page: https://www.facebook.com/events/2222372147984694/ or email: latinfestival@chattanoogastate.edu.