Unum donates $20k to Writers@Work
April 1, 2016 | Betty Proctor | College Advancement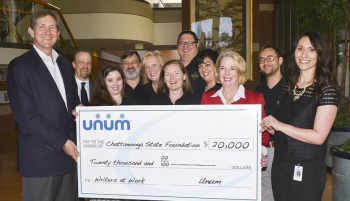 Chattanooga State Community College received a substantial $20,000 boost from UNUM in support of its award-winning Writers@Work program during an official check presentation on March 18.
UNUM, founded in 1848, is known for its integrity, determination, innovation and leadership.
"Most of our investments in the Chattanooga community directly benefit education for K-12 students. The Writers@Work program gives this population access to the author and we especially liked the unique approach to creating interest in reading and writing," states Suzanne Payne, Director of Corporate Social Responsibility.
Writers@Work is an award-winning program that creates opportunities for students and members of the community to interact with well-known Southern writers and presents an alternate view of what it means to have a Southern voice.  Through analyzing these works and interacting with the authors, students and the community develop a more comprehensive understanding of what it means to be a Southerner. This public series, offered April 11-14, 2016, features southern authors Robert Morgan and Ron Rash at various Chattanooga locations.
"Writers@Work is a great program that provides valuable exposure for students who are interested in writing. Students not only deserve that exposure – they need it, and we're glad to be able to help provide that for them," shares Jeana Lee, Community Relations Specialist at Unum.
For more information about Writers@Work, call Dr. Joel Henderson at 423-697-4403 or email joel.henderson@chattanoogastate.edu. For information about becoming a donor, contact Tammy Sawyers, tammy.sawyers@chattanoogastate.edu or call 423-697-3359.
Photo: Tom White, SVP, Investor Relations and Jeanna Lee, Community Relations Specialist, Unum. Left to right, Darrin Hassevoort, Dean of Humanities and Fine Arts; Ann Nicodemi, Bill Stifler, Lori Barton, Erica Lux, Joel Henderson, and De'Lara Stephens, W@W Team members; Dr. Flora Tydings, Chattanooga State president; and Josh Tucker, W@W team member.