Southern hospitality meets Latin flair at ChattState's 4th Annual Latin Festival
April 27, 2018 | Gladys Pineda-Loher | College Advancement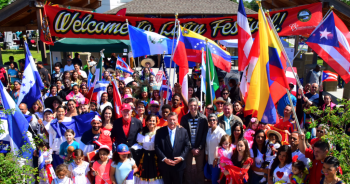 Each May in Chattanooga, a wave of international culture descends upon the Scenic City, bringing with it a carnival-style party with music, dancing, and authentic food. Head west on Bailey Avenue towards Highland Park this May 5th, and you will find the air filled with the rich smells of cumin and chili powder mixed with the unmistakable rhythm of live salsa music. Flags of every color will dance in the wind while beautiful Latina women spin and turn to the music, their layered dressed embroidered with vivid colors twirling around them.
It's time for the 4th Annual Latin Festival! Quickly becoming a Chattanooga tradition drawing thousands from the region, this free festival features all that Latin America has to offer in our own backyard and with the southern hospitality you expect from our scenic city. In addition to authentic costumes, food, music, interactive booths, art, and the pavilion of faith, the festival will once again feature the Passport to Latin-America Challenge. Participants will visit booths that represent different Latin American countries and take part in activities to further their knowledge of these nations. Goodie bags will be awarded to the first 800 who complete the challenge.
This event provides an unparalleled opportunity for the entire region to experience first-hand all the Latin American people have to offer the greater Chattanooga area. With dozens of businesses, churches and organizations sponsoring and participating in this festival, it is without a doubt the only event of its kind in our area.
Other activities associated with Latin Festival are the Latino-American Soccer Cup which runs April 30- May 5, and the "Welcome the Stranger Prayer Service" held on Friday, May 4 at 5:30 pm.
With all the fantastic features the festival has to offer, it may be easy to get lost or feel overwhelmed! But here is a detailed map and schedule of all events so participants can be prepared and plan out their festival experience in advance (click image to enlarge):
Event proceeds benefit Chattanooga State's Latino Scholarship and International Community Outreach programs. You can donate to support our life-changing Latino Scholarship by going to give.chattanoogastate.edu and designate your gift to: Latino Scholarship.
Article written by Andy Santoro