Save the date for Latin Festival 2018
April 3, 2018 | Gladys Pineda-Loher | College Advancement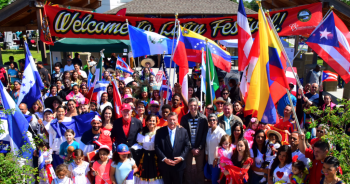 Chattanooga State's International Community Outreach Office is excited to announce the date for its fourth annual Latin Festival and Latino-American Soccer Cup 2018. On May 5th from 11 a.m. to 3 p.m. at the Highland Park Commons on 2000 Union Avenue, Chattanooga will be immersed in  a wave of international culture as the spirit of Latin America is celebrated carnival-style with music and dancing, authentic food, typical costumes, artwork, pavilion of faith and interactive educational booths.
Quickly becoming a Chattanooga tradition drawing thousands from the region, this free festival will once again feature the Passport to Latin-America Challenge. Participants will visit booths that represent different Latin American countries and take part in activities to further their knowledge of these nations. Goodie bags will be awarded to the first 800 who complete the challenge.
With dozens of partners and sponsors across every industry in the area, proceeds will benefit Chattanooga State's Latino Scholarship Fund and International Community Outreach programs. The Chattanooga Police Department, the Hamilton County Department of Education, the Highland Park Neighborhood Association, 26 Hispanic Churches, 34 Latino businesses, La Paz Chattanooga, CGLA, Girls Inc. and 27 outreach organizations are among the proud participants of this year's Latin Festival. Organizers are calling Latin Festival 2018 an unparalleled opportunity for the entire region to experience first-hand all the Latin American people and culture have to offer the greater Chattanooga area.
Latin Festival is kicked off with the popular Latino-American Soccer Cup 2018. Details on game time are soon to follow.