Latin Festival 2017 is Saturday, May 6
February 20, 2017 | Gladys Pineda-Loher | College Advancement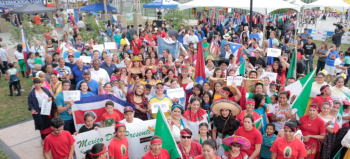 Chattanooga State's International Outreach Office is pleased to announce the date for our Third Annual Latin Festival 2017 Saturday, May 6th, 2017 from 11:00 a.m. to 3:00 p.m., at the Highland Park Commons in downtown Chattanooga.
Latin Festival is designed as a free community celebration with event proceeds to Chattanooga State's Latino Scholarship Fund and  English as a Second Language Programs.
Latin Festival 2017 has the spirit of a Caribbean carnival with fun for all ages and backgrounds. The Festival features traditional folkloric dance and musical performances by local artists and regional performers, a parade of nations, authentic food court, pavilion of faith, Latino-American soccer tournament, visual artists' showcase, a Hispanic Heritage Fashion Show and plenty of family fun!
Once again a unique part of Latin Festival is our Passport to Latin-American Challenge which is a fun cultural learning experience available for up to 500 participants. It will "challenge" people to connect with 16 educational booths and activities to learn about different Latin countries represented in Chattanooga. Goodie Bags will be available for students completing the challenge.
This year will be having our Latino-American Soccer Cup 2017 from May 3-6. We will partner with Office of the Office Multicultural Affairs, Chattanooga Sports Ministries, YMCA Metro, Highland Park Neighborhood Association, Chattanooga Neighborhood Association, CGLA, La Paz Chattanooga, Chattanooga Zoo, 27 Hispanic Churches, Chattanooga Football Club, Chattanooga Police Department, Hamilton County Department of Education to develop a great program during Latin Festival 2017.
Learn more at latinfestivalcha.org.
We are honored to have leadership support for Latin Festival from the Benwood Foundation, Maclellan Foundation and EPB. Contact me to learn more about sponsorship opportunities: gladys.pineda-loher@chattanoogastate.edu or call 423-697-3204.