Global Scholars Students Named Semifinalists
January 13, 2017 | Betty Proctor | College Advancement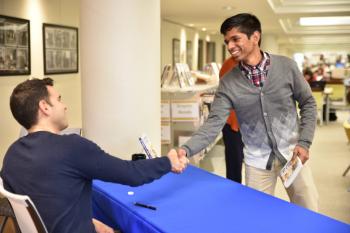 Two of Chattanooga State's Global Scholars have been named semifinalists for the Jack Kent Cooke Transfer Scholarship, which provides up to $40,000 per year as an undergraduate transfer scholarship. Chattanooga State Global Scholars honors students Ashwyn Sam (pictured above) and Chandler Kennedy have been named as semifinalists.
Chandler Kennedy
According to the Jack Kent Cooke Foundation, more than 3,000 students nationally applied for this award. If selected, they will receive scholarships to complete their bachelor's degrees and join a very prestigious group of scholars. Final selections will be made in April.
"I am extremely proud of these two students for making it this far in the process. To be named as a semifinalist is a tremendous honor and confirmation of the incredible work and service our students are doing," states Amanda Bennett, Director, Global Scholars Honors Program.
To see the complete list of semifinalists for the nation's largest transfer scholarship, go here.
For more information about the Global Scholars Honor Program at Chattanooga State, please contact Amanda Bennett, 423-697-2577, email: Amanda.Bennett@ChattanoogaState.edu or visit here.