Dinner of Firsts 2016 Highlights
December 9, 2016 | Tammy Sawyers | College Advancement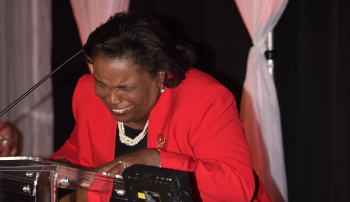 The 5th annual Dinner of Firsts was a resounding success! Edna Varner and about 400 of her friends shared a wonderful dinner and awesome laughs. The event chaired by Stefanie Crowe featured Roasters Pete Cooper, Wade Hinton, Stacy Lightfoot, Keith Sanford and Elaine Swafford. Jed Mescon once again served as Master of Ceremonies.
The evening began with an opening Toast by our Co-Hosts and Evening Sponsors Greg Vital, President & CEO of Independent HealthCare Properties & Morning Pointe and Jeff Jackson, Market President of First Tennessee. We are grateful to our 44 corporate and individual sponsors, the many individuals who reserved seats, and all those who made donations to the First in the Family Scholarship for their support of our annual fundraiser.
The event featured First in the Family Scholar Austin Adderholdt with this special recorded message:
Please enjoy photo highlights from the event here.
We are honored to have WTCI-TV and Brewer Media Group as our media sponsors. Our beautiful floral arrangements were provided by Chattanooga Funeral Home, Crematory & Florist.
We are pleased to report net proceeds for the event totaled $60,720 towards the Chattanooga State Foundation's First in the Family Scholarship which will fund 30 students next year! Earnings from the first five years raised more than $268,996 to support 134 students with First in the Family Scholarships.

Thank you for your incredible support of our students!