Chattanooga State Joins Achieving the Dream to Improve Student Success
July 20, 2016 | Betty Proctor | College Advancement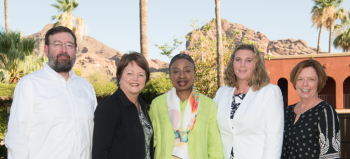 Chattanooga State Community College has been selected to participate in Achieving the Dream (ATD), the nation's most comprehensive, non-governmental reform network for student success in higher education history. Chattanooga State joins an elite network of more than 200 community colleges in 34 states across the U.S.
"Being selected as an Achieving the Dream institution is a great opportunity for Chattanooga State and our community," said President Flora Tydings. "According to the Chattanooga 2.0 Report, only 38% of Hamilton County residents have some type of postsecondary credential. Far too many Chattanooga State students arrive unprepared or leave before they finish. Achieving the Dream is a data-informed program designed to accelerate success among diverse student populations which will help us to drive better graduation results."
A leadership team from Chattanooga State recently joined 11 other colleges in Scottsdale, Arizona now joining ATD to launch their work. This group of colleges will be the first group to use the capacity building framework from the start of their ATD work.
Achieving the Dream acts as a catalyst to help colleges strengthen and build their capacity to ensure that more students complete postsecondary education and have greater opportunity for economic success.
The Lumina Foundation conceived Achieving the Dream as a national initiative in 2004 with the goal of success for more of the eight million community college students nationwide, especially students of color and low-income students. Success is defined by 1) the rates that students enroll in and successfully complete the initial college-level or gateway courses in subjects such as math and English, 2) successfully completing remedial or developmental instruction and advancing to credit-bearing courses, 3) completing the courses taken with a "C" grade or better, 4) persisting from one term to the next, and 5) earning a certificate or associate degree.
Chattanooga State is the third community college in Tennessee to be selected for Achieving the Dream.
Additional information about Achieving the Dream can be found at www.AchievingtheDream.org. For more information, please contact Dr. Robert Denn at 423-697-2659.
Photo ID, L-R: Attending the Achieving the Dream Conference were: Dr. Robert Denn, Interim Vice President, Institutional Research & Effectiveness; Debbie Adams, Vice President, Student Affairs;  Dr. Mosunmola George-Taylor, Associate Vice President, Academic Affairs; Sherry Marlow Ormsby, Director, Assessment & Planning; and Donna Seagle, Director Faculty Instruction & Professional Development.
Related