Learning Support = Learning Success!
Learning Support exists for the purpose of "enhancing student access and success in higher education" (TBR A-100 Guideline).
Learning Support and The Learning Center (TLC)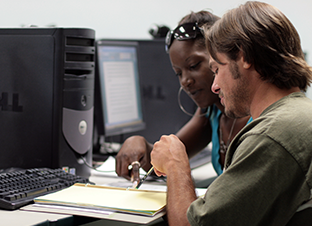 Learning Support courses are foundational classes for students who need help in any or all of the areas of reading, writing, or math to become college ready.
The Learning Center (TLC), located in IMC-125*, provides a variety of services including: academic assistance; help with homework, projects, and studying for tests; obtaining tutoring for particular courses; tutoring by professional and peer tutors in specific areas; and assistance for improving study skills.
In addition, the Learning Center provides test preparation for students whose initial test scores on the ACT, SAT, ASSET, or COMPASS are below college level.
*Enter the Learning Center through IMC, room 128, near the rear door of the IMC-Library Building.
Hours
Monday, Tuesday, Wednesday and Thursday: 8:00 A.M. - 5:30 P.M.
Friday: 8:00 A.M. - 4:30 P.M.
For Additional Information, go to http://libguides.chattanoogastate.edu/LS