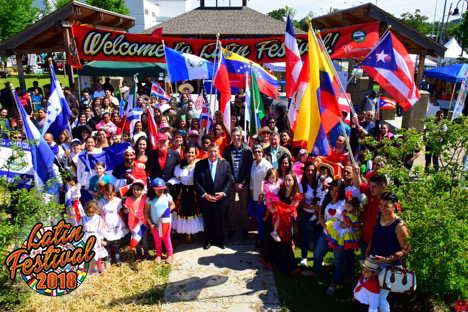 May 5th, 2018 (11:00am - 3:00pm)
Highland Park Commons in Downtown Chattanooga
2000 Union Avenue
Latin Festival and Latino-American Soccer Cup 2018 is designed as a free community celebration with event proceeds to Chattanooga State Foundation's Latino Scholarship Fund and the Chattanooga State's Bridges to Success programs offered in Highland Park since 2001.
Latin Festival and Latino-American Soccer Cup 2018 has the spirit of a Caribbean carnival with fun for all ages and backgrounds. The Festival features traditional folkloric dance and musical performances by local artists and regional performers, a parade of nations, authentic food court, pavilion of faith, Latino-American soccer tournament, visual artists' showcase, a Hispanic Heritage Fashion Show and plenty of family fun!
Once again a unique part of Latin Festival is our Passport to Latin-American Challenge which is a fun cultural learning experience available for up to 500 participants. It will "challenge" people to connect with 17 educational booths and activities to learn about different Latin countries represented in Chattanooga. Goodie Bags with sponsored provided items for adults and children will be available for participants completing the challenge.
This year Latin Festival will Kick-Off with the Latino-American Soccer Cup 2018 on Wednesday May 2nd.
Stay tuned for more details about Latino-American Soccer Cup 2018 in the coming months.
We are collaborating with several organizations such as Hamilton County Department of Education, Highland Park Neighborhood Association, Chattanooga Neighborhood Association, 26 Hispanic Churches, La Paz Chattanooga, CGLA. Girls Inc., Chattanooga Police Department and 27 outreach organizations and 34 Latino businesses. 
For the past four years, Latin Festival has been able to create community impact on many levels. Latin Festival is bringing global awareness about our local Latino community and providing educational opportunities