The WACKER INSTITUTE is a unique collaboration between Chattanooga State Community College and WACKER POLYSILICON North America (WPNA).
The WACKER INSTITUTE offers four principal areas of study
Process Technician (Chemical Operator): operate and monitor manufacturing processes through the utilization of automated control systems
Chemical Laboratory Technician (Analytics): analyze data and monitor quality control
Mechanical Systems Technician: involved in setting up, refitting and commissioning production plants
Electronics & Instrumentation Technician: integrate, put into operation, and maintain automation solutions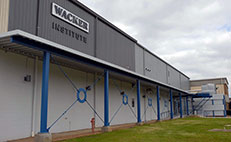 As of the fall 2011 semester, the WACKER INSTITUTE and other engineering technology programs are housed in the former Olan Mills building located adjacent to Chattanooga State's main campus. The WACKER INSTITUTE occupies 25,000 square feet of the 149,000 square foot facility. In addition, WACKER has donated $3 million dollars toward the construction of a state-of-the-art chemical training plant for the Institute. This investment makes certain that the training plant will model the actual plant.