Engineering & Information Technologies
The Division of Engineering and Information Technologies offers training for the careers of the future.
Degrees and Certificates
The combination of 2+2 programs and the newly created Tennessee Transfer Path (TTP) makes it possible for students to complete their first two years at Chattanooga State, then transfer to a four-year institution knowing course credits will be accepted. Click a program below for additional information.
Scholarships
There are numerous scholarships available for engineering technology and pre-engineering students. Scholarships are sponsored by local community organizations such as the Associated General Contractors of East Tennessee. In addition to these scholarships, students from Catoosa, Walker, Dade, and Whitfield Counties in Georgia and Jackson County Alabama are eligible for in-state tuition.
Division News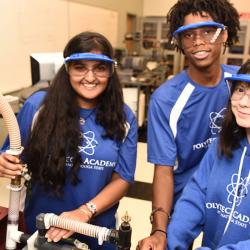 Polytech Academy Open House Scheduled for February 25
The Polytech Academy at Chattanooga State will hold an Open House on Monday, February 25 at 6:00 p.m. in room 341 of the Center for Engineering, Technology, Arts & Sciences building (CETAS). Visitors may use the West Entrance roadway to reach the CETAS building.
Established in 2017...
read more about Polytech Academy Open House Scheduled for February 25
Card-Monroe Corp. Manufacturing Lab Dedicated
President Rebecca Ashford officially welcomed local dignitaries, Card-Monroe officials, faculty, staff, and students on February 6 as Chattanooga State Community College recognized the Card-Monroe Corp. for its generous $100,000 donation to the Chattanooga State Foundation. This gift helped to...
read more about Card-Monroe Corp. Manufacturing Lab Dedicated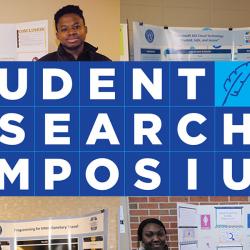 Student Research Symposium Surpasses 200
The Student Research Symposium is an interdisciplinary showcase of student research projects regarding challenges in their professions, careers and academic programs. Organizers of the event expected 150 students, however, 250 students actually participated. 
As a capstone assignment...
Many of the programs in the Engineering Technology Division are accredited by ABET, a nonprofit organization which provides assurance the program of study meets standards established by industry.
Eight programs in the Engineering Technology A.A.S. and two programs in the Electrical/Electronics A.A.S. are accredited by the Engineering Technology Accreditation Commission of ABET, http://www.abet.org. Applied Science A.A.S., General Engineering Concentration is accredited by the Applied Science Accreditation Commission of ABET, http://www.abet.org.
Currently no events scheduled. Check back later.
Advanced Manufacturing Skills and Internship (AMSIP) Program
Contact - Tiffany Scruggs | (423) 697-2496 | Office - CETAS 363


​ChattState clubs and organizations use ChattSync to communicate with students and staff. It's an excellent tool for promoting student involvement, and managing events and websites.
Sign In or Create an Account to view Clubs and Organizations