Regular communications providing updates related to the campus operations are provided to students and employees in emails from the President's Office and on the College's COVID-19 information page.
Additionally, the communications are posted to social media for broader community awareness. Media releases are issued to announce significant milestones (e.g., campus closure, return to campus planning, fall plans, etc.)
We provide a weekly update on the college and TBR websites tracking the number of active and recovered COVID-19 positive cases within our Chattanooga State community.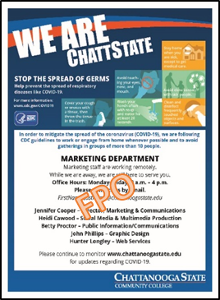 When campus initially closed in March 2020, signage was created to provide contact information for those following an alternate work schedule. This signage also provided health and safety tips, based on CDC guidance available at that time.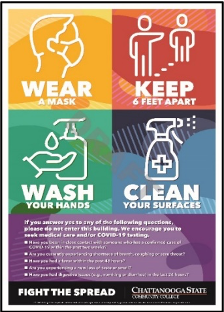 Posters were placed at the primary entrance point in buildings across campus. The posters remind students, employees, and campus visitors to follow campus policies and procedures during the original Phase II and Phase III return-to-campus plan were placed at building entrances. A smaller version of the poster was included in TCAT packets distributed to Summer 2020 students. Additionally, a table-top easel was created for use in office spaces, particularly as student-facing offices began to open.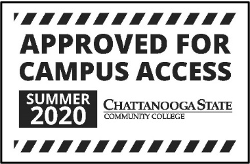 Students and employees returning to campus for the first week of the Summer 2020 term were supplied a parking pass, which was printed on brightly colored card stock. This ensured campus access was limited to only students approved for on-campus learning. Once the daily health screener was implemented, the printed pass was discontinued.