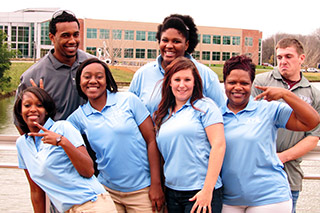 Back row: Marcus Jones, Delnita Evans, Chase Cochran
Front Row: Shasta Vance, Tiffany Scott, Megan Hixson, Rhonda Alhamdan
The APB is a group of students charged with the task of planning and executing various events around campus. Our board consists of 6 Executive members and many volunteer members. Each Spring, we post positions within the board so be sure to check your tigermail and Friday updates for opportunities to be a part of the crew!