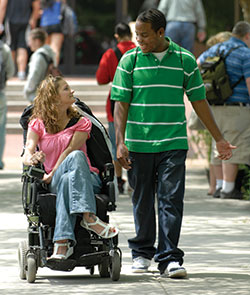 Chattanooga State complies with Section 504 of the Rehabilitation Act of 1973 and with the Americans with Disabilities Act (ADA) of 1990 (as amended in 2008).
Purpose
Disabilities Support Services department acts as a liaison and advocate for students with disabilities. We act as an information center for the campus community by providing pertinent information on how to ensure equal educational opportunities for individuals with disabilities.
In order to provide us with a better understanding of your needs please download and complete the intake form before coming into the office. This will give us a better idea of who you are and how we can assist you.
According to ADA guidelines
A disability is defined as a physical or mental impairment that substantially limits one or more of the major life activities of such individual, a record of such an impairment, or being regarded as having such an impairment.
Major life activities are defined as those basic activities that the average person in the general population can perform with little or no difficulty. Major life activities include but are not limited to caring for oneself, performing manual tasks, seeing, hearing, eating, sleeping, walking, standing, lifting, bending, speaking, breathing, learning, reading, concentrating, thinking, communicating, and working.