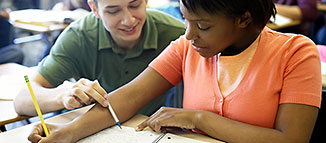 Project A.H.E.A.D. is a collaborative endeavor with community partners and is administered through Chattanooga State's office of Student Affairs.
Purpose
Chattanooga State's Project A.H.E.A.D. pre-college program is designed to provide structural direction, support, and reinforcement in the areas of academics and life skills that are needed to thrive in college, the workplace and in training. Project A.H.E.A.D. believes a strength-based foundation improves academic performance and retention among non-traditional, high-risk adult learners. Project A.H.E.A.D. creates an individualized, peer-supported partnership that fosters personal responsibility, celebrates successes, and promotes a stronger transition to self-sufficiency. Project A.H.E.A.D. provides a team of educators and mentors that link together administrative and institutional practices to implement a holistic, integrative approach to student learning that improves academic skills, career development and enhances responsible life-long achievement.
Mission
Project A.H.E.A.D. provides the necessary tools and resources to help participants become more self-sufficient. The program removes obstacles that seemingly prevent participants from succeeding in a variety of life settings. Along with enrollment in one of Chattanooga State's many technical or credit programs, Project A.H.E.A.D. participants receive hands on training to enhance workplace skills. This allows them to attain their personal goals, and to earn a more sustainable income.
Our mission is to empower individuals by providing a transitional support system that challenges them to grow and meet both their personal and professional goals.
Vision
Project A.H.E.A.D. strives to provide a foundation that allows participants to develop the skills necessary to achieve their chosen career goals through personal and professional development. Hence, participants become thriving members of the community.